UV LED Sterilizer
Why UVPOT?
Premium portable sterilizer for infants with weak immunity.
Possible to sterilize the product intensively with the close use of the sterilization part
Suitable for hygienic activities for families who frequently have outdoor activities and travels
Possible to use anytime anywhere as it is recharged with a battery
Environment friendly product with no heavy metals such as mercury(Hg)
Semi-permanent product with no need for exchanging lamps
Easy operation with one-touch control
Human protection function with UV safety sensor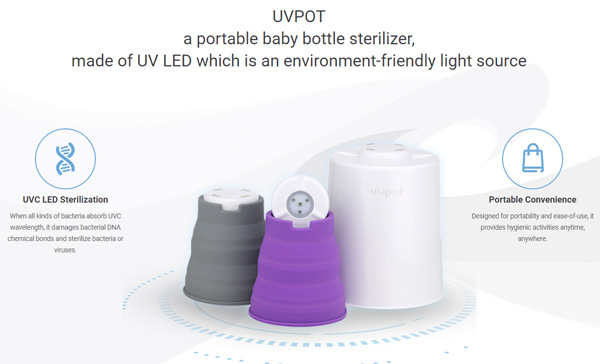 Use UVC LED with a single wavelength to sterilize 99.9% including super bacteria.
99.9% sterilization of a wide range of bacteria including super bacteria by using UVC LED with single wavelength.
Intensive sterilization is possible for a specific purpose by the close use of sterilization area.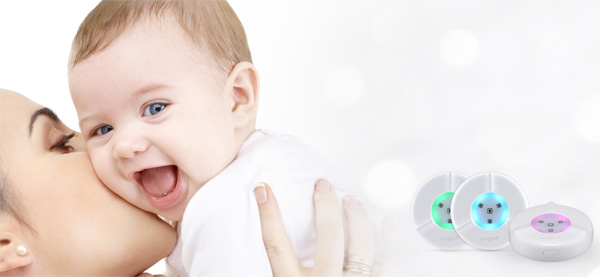 Intensive sterilization by application
By close use of sterilization site, it can be sterilized to suit the application.
Contains 4 UV LEDs, boasts powerful sterilizing power. (30-second sterilization certification within 30 seconds of close 3cm)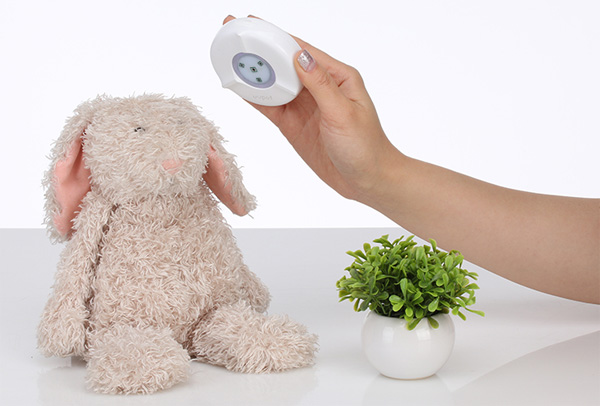 UV Safety Sensor
UVPOT has a UV blocking sensor for human protection
UV LED Auto-Out when Products Direct to Human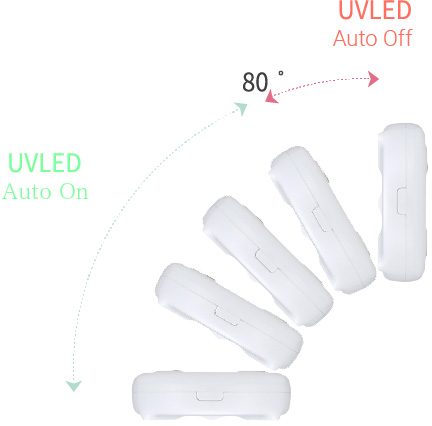 Convenient Portability
UVPOT at the top of of STAND can be removed, making it convenient to carry.
UVPOT at the top of the STAND can be removed, making it convenient to carry.
Battery rechargeable, recharge anytime, anywhere.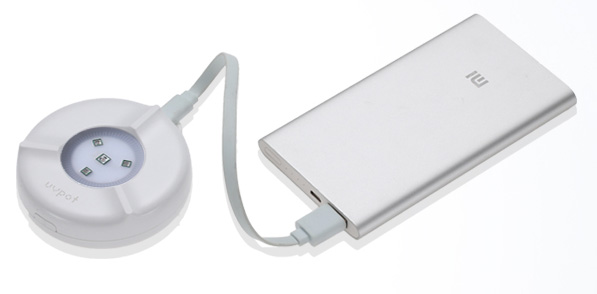 One-touch Operation
Easy one-touch operation
Pressing the power button for 3 seconds starts 1 minute mode.
Press once more to change to 3 minute mode.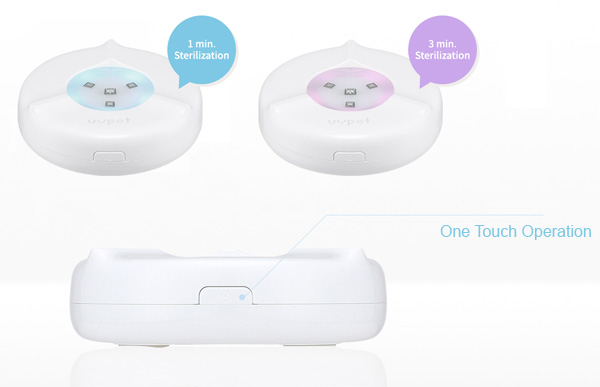 Reliable Product UVPOT
UVPOT is patented, CE certified and passed various sterilization tests.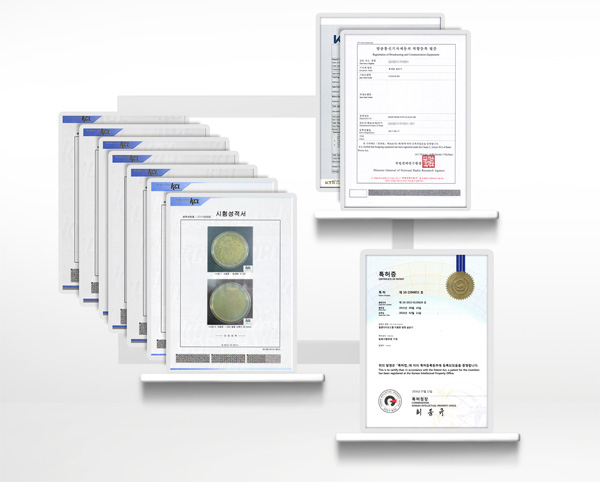 Specification and composition
Model
Clean-B4-LU
Size
Ø75 x H22cm
Weight
65g
Input
5V, 1A
Sterilization method
UVC LED
Batt.
1200mA
(Used 70 to 80times continuously on 3-minute mode)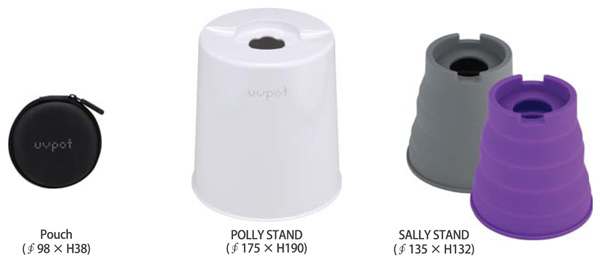 Stand
Polly(White
Sally(Purple/Grey)
Size
Ø175 x H190mm
Ø135 x G132mm
Weight
UVPOT : 65g + Stand : 290g
UVPOT : 65g + Stand : 128g
Material
PC
Silicone
Capacity
Approximately four baby bottles
Baby Bottle(Less than 200ml)
Pacifier etc.
Foldable
N/A
Available(Height adjustable)
UVPOT Sterilization Method
UVPOT is sterilized by UV LED semiconductor chip, not UV lamp.
Possible to produce only a single spectrum due to the characteristics of semiconductor chip.
So, it is more efficient than a mercury(Hg) UV lamp, and wavelength can be selectively used.
High sterilizing power and low heat generation.
Environment-friendly light source because there is no harmful substance such as mercury(Hg).
Semi-permanent lifetime does not require lamp replacement.
UVPOT Sterilization Principle
Please check UVPOT's strong sterilizing power!
01. UVPOT sterilization(Self-test : E.coil)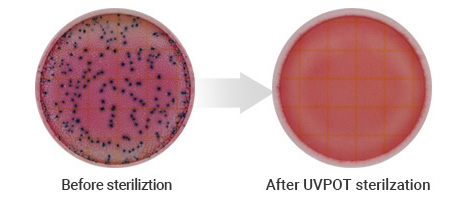 02. UVC Sterilization Principle
When all kinds of bacteria absorb UVC wavelength, it damages bacterial DNA chemical bonds and sterilizes bacteria or viruses.