Kernel New model
UV Phototherapy
KN-4003BL2D
New type UVB lamp waterproof home use UVB phototherapy ations
Intended Application
The patients with skin diseases of vitiligo, psoriasis, pityriasis rosea, eczema are suitable for the ultraviolet irradiation treatment
Located Application
Products are designed for treatment by patients themselves at home under doctor\'s guidance.
KN-4003BL2D UV Phototherapy lamp
Safe equipment for handheld home use device,311nm narrow band UVB
One unit lamp for home use
Philips Narrow Band UVB 311nm
Psoriasis,vitiligo pityriasis rosea and eczema etc treatment
Simple operation,low price
With CE certificate, most popular uv therapy product
with OLED screen ,have the timer.
KN-4003BL2D Handheld uv therapy for home use is developed by kernel medical, adopt Philips company Narrow band UVB 311nm lamp(PL-S 9W/01/2P). Through the microcomputer control system, and set the treatment time,simple operation,It is the one of the most popular product for treatment of Psoriasis,vitiligo pityriasis rosea and eczema etc.+
KN-4003BL uv phototherapy adopts one unit design, UV phototherapy is very effective for Psoriasis,vitiligo pityriasis rosea and eczema etc.
Warranty
The lamp comes with 1 year manufacturer's warranty (500 hours for bulbs)
How to use UV Phototherapy?
Before treatment: the first step, please take a bath for 15 to 20 minutes to remove skin surface scales;
The second step, patients need to determine the MED.
Note:
1.Intensity is 10 mW/cm
2. MED calculation method for: irradiation time S = dose (J/cm2) * 1000/10 (mW/cm2)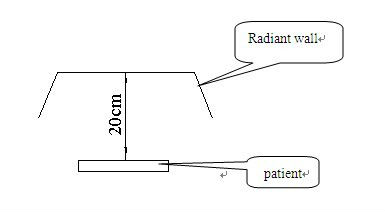 work distance
Treatment:
Psoriasis:
3 ~ 4 times / week, 15 ~ 20 times / treatment course.
Vitiligo:
2 ~ 3 times / week, need treatment for 30 ~ 50 times or more.
Parapsoriasis:
PUVA, UVA/UVB,NB-UVB: 4 times / week, until histology improvement.
Dose adjustment:
| | |
| --- | --- |
| 1. No erythema effect or Previous light erythema effect disappeared | Every time increase 20~ 25% dose. |
| 2. Mild erythema effect | Same as the last dose or increase 10% dose,if erythema effect disappears,same as A . |
| 3. Asymptomatic, clear the shinning erythema | Stop treatment for one time, then with the same exposure, later every time by 10% gradually increasing dose. |
| 4 The pain of erythema, or with edema,blister | Stop treatment, until recovery. Reduce the dose half, later every time increased by 10% dose. |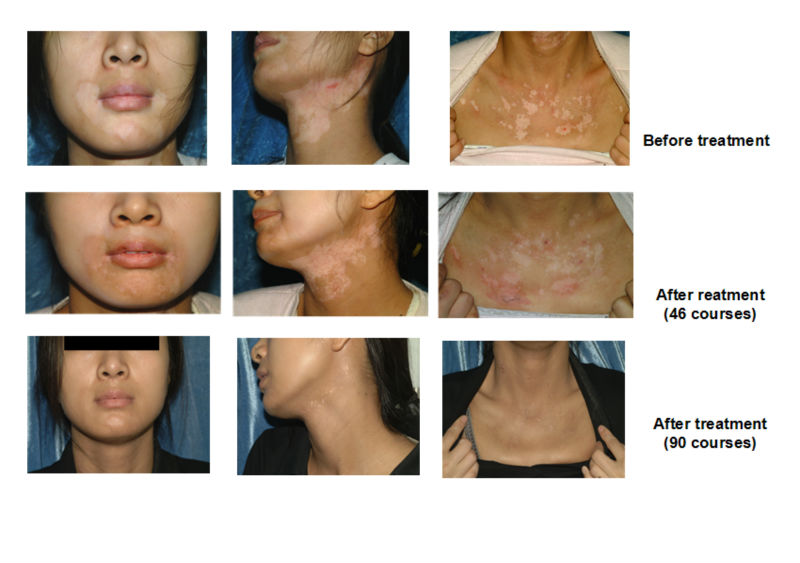 About Kernel
Kernel Medical Co;Ltd was established in the year of 1997.As a large-scaled stock enterprise ,Kernel dedicates itself to R&D ,production ,marketing and service of hi-tech-oriented medical equipment.Kernel company has been certified by ISO9001 / ISO13485/ CE// FDA/ FSC. In the year of 2003 ,Kernel won an UN bid and became the supplier for United Nations Population Fund.
Kernel emphasizes importance of mart construction and expansion both at home and abroad .Now there are over hundreds of distributions in the domestic market and abroad.The excellent after-service and flexible market operation mechanism enlarges and perfect its international networks of marketing and service.
Kernel is a leading phototherapy equipment manufacturer in China and our products enjoy a great reputation all around the world.
production line reception desk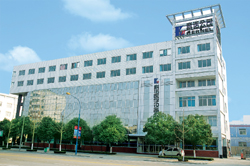 kernel mansion showroom