Detailed Product Description
1.apply to different kinds of umbrella
2.long & short bag to choose
3.handle bag convenient to carry
4.keep floors dry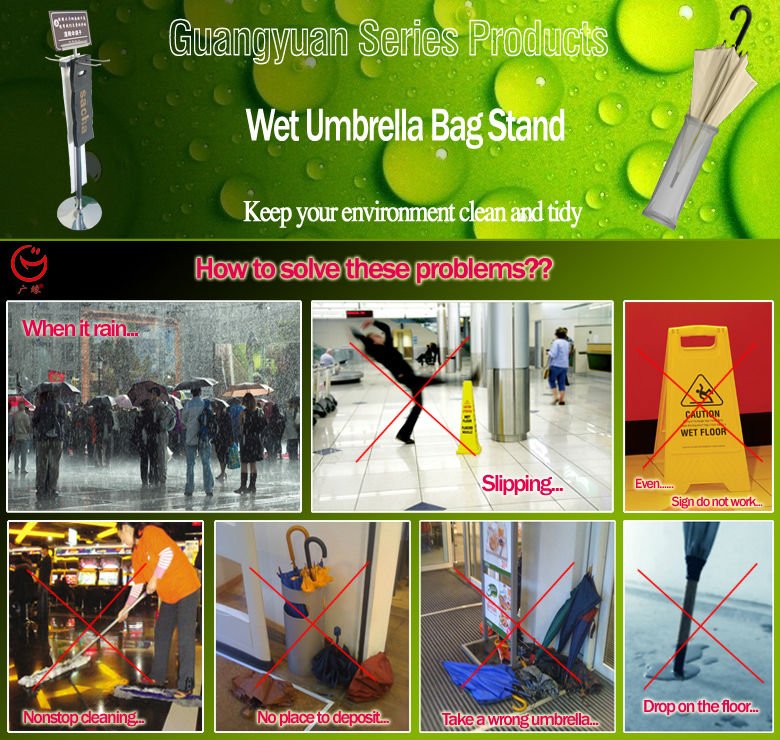 Product Function:
Umbrella stand is also called umbrella rack or umbrella holder.
It's used to solve the troubles in the rainy days!
1.Non-Electric
2.Easily Branded and personalized
3.Deals with large and small Umbrellas
4.Automatic refill indicator
5.Inexpensive Insurance
6.Keeps floors dry, resulting in fewer slip and fall accidents.
7.Protects customers clothes from wet umbrellas.
8.Reduces need for numerous mats at entryways
9.Reduces housekeeping maintenance, labor from mop-ups.
10.Identifies your company as one that cares about its customers and employees.
Attention:It is an advertising player!
You can put your own or others logo or ads in the machine body, enhance the company's reputation.
Model NO.

UBS-01

Material

Stainless steel

Product High

130cm

Umbrellas

Full-size, half-size & three folded umbrella

Loading

1000 bagsx2

Bag type

Long&short

Base Diameter

30cm

Carton size

101x32x9cm

Net w't

2.4kgs

Gross w't

3.5kgs

Packing

Carton box within plastic foam

Power

0

Warranty

1 year

How to use it ?
Where to use?
Ideal for use in reception areas, cinemas, theatres, hotels, museums, art galleries, retail outlets, stately homes,banks, churches, bookstores, office buildings, hospitals, telecom company, hotels, guesthouses, commercial buildings, schools, supermarkets, government agencies, research institutes and many other locations enhancing customer care.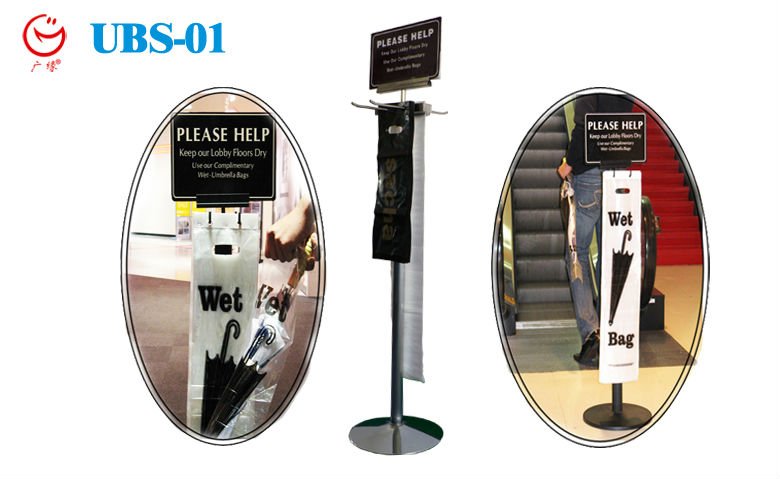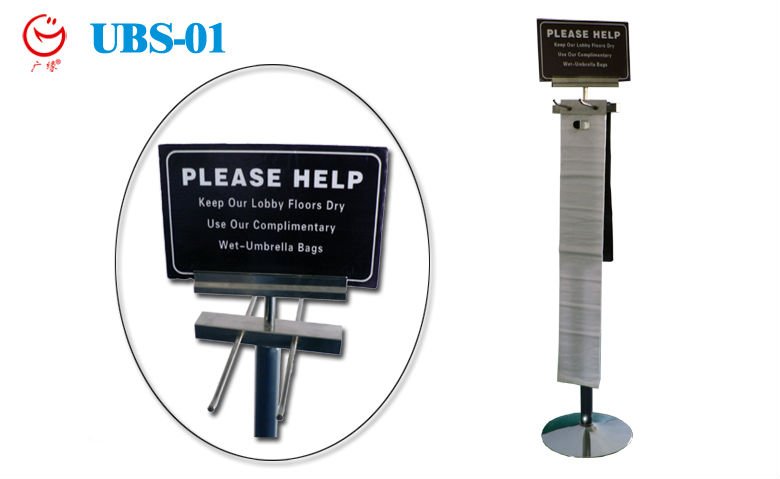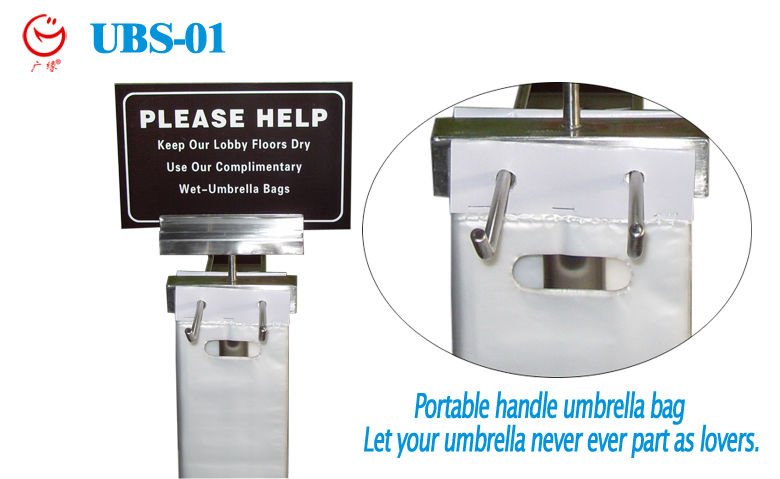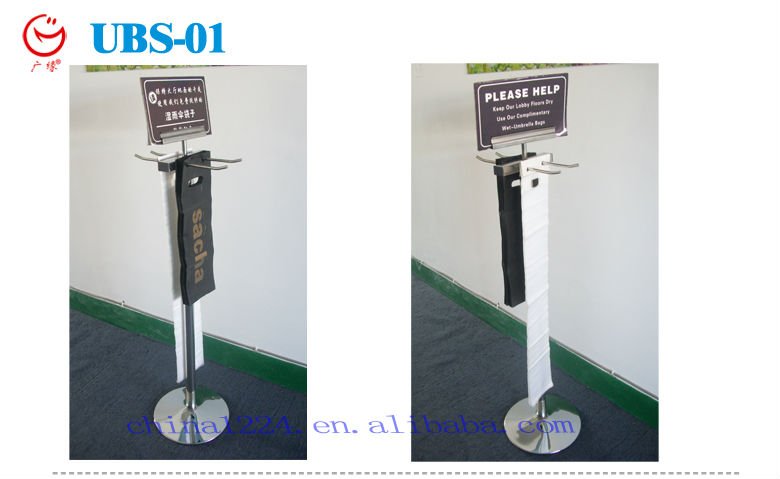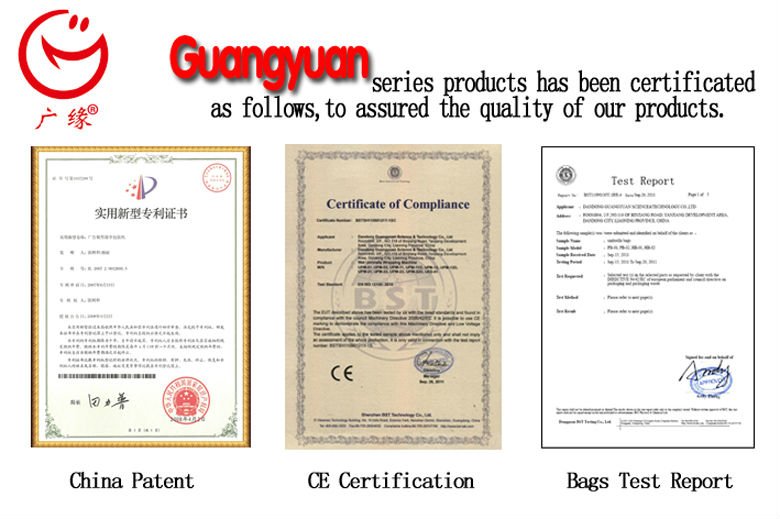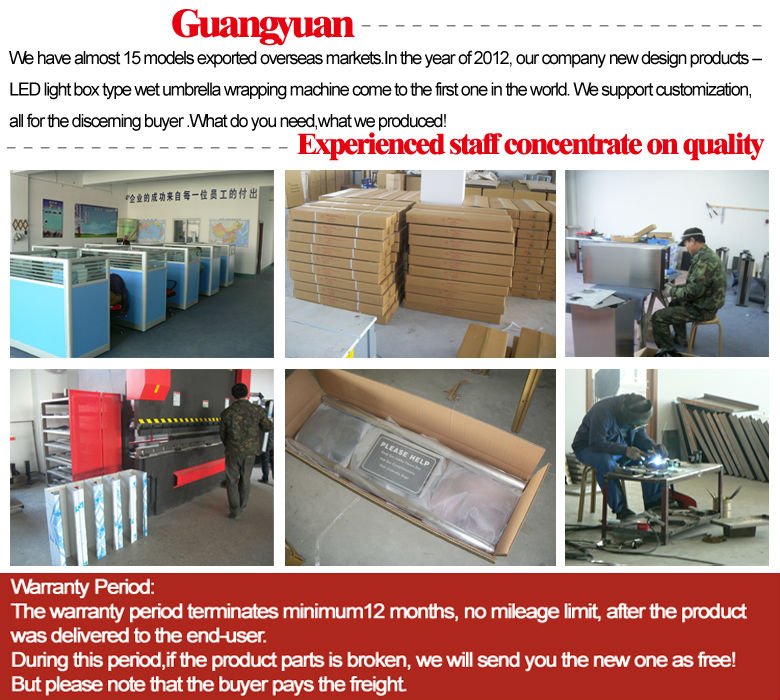 Handle Bags information:

Material

HDPE (High-Density Polyethylene)

Product size:

76cm×13cm(Long Handle Bag)

47cm×13cm(Short Handle Bag)

Package:

Carton box

Carton size:

22cm×26cm×30cm

Carton weight:

10kgs/ctn

Contain:

One ctn contain long bag 2500pcs or short bag 4000pcs

Specification:

Each group has 100pcs,all of those are linked together.

Bags are recyclable:
Recycled to become bottles for laundry products recycling bins, agricultural pipe,

soft drink bottle base cups, car stop, playground equipment, and plastic lumber.