VRL series inline speed reducer is a kind of FHT helical gear planetary gearbox .Thread-in mounting method together with high level of precision and torque capacity makes VRL speed reducer high precision(2~5 arcmin backlash class) and good stability.VRL is a round body precision reduction gearbox,its output flange is also round,such design makes installation space saved.VRL planetary gearbox is a good option for the request of high precision operation .
VRL has full dimensions,matching the dimensions of any brands of servo motors and stepper motors.It can directly replace the similar models of other brands on the market. High quality of machined planetary helical gears contribute to VRL reducer running more quietly and more effectively. FHT VRL planetary reducers are widely used in CNC machines,injection molding machines, linear slides, pick and place automation, gantries, cutting and welding machines, etc.
VRL precision planetary gearheads have two stage reduction ratio:single stage and double stage.
Single stage ratio: 3,4,5,6,7,8,9,10
Double stage ratio:15,20,25,30,35,40,45,50,60,70,80,90,100
VRL series precision planetary gearbox have the below features
(1)Quiet operation
Helical gears contribute to reduce vibration and noise
(2)High precision
Standard backlash is arc-min,ideal for precision control
(3)High rigidity&torque
High rigidity&high torque were achieved by uncaged needle roller bearings
(4)Adapter-bushing connection
Can be attached to any motor all over the world
(5)No grease leakage
Perfect solution using high viscosity anti-separation grease.
(6)Maintenance-free
No need to replace the grease for the life of the unit.Can be attached in any position.
Model selection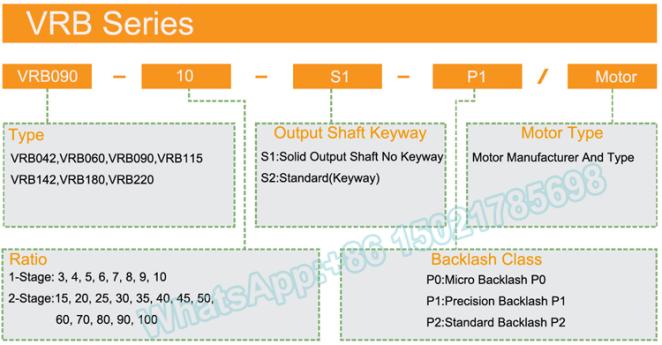 Technical Parameters