"KLS" Shafts Specifications
Material : JIS : SUJ-2(KS: STB-2)
Mark
Materials chemical composition(SUJ-2) %
C
Si
Mn
P
S
Cr
STB-2
SUJ-2
0.95~1.10
0.15~0.35
below 0.50
below 0.025
below 0.025
1.30~1.60
RockWell : H

R

C 58~64
RoughNess : 0.6S~1.5S Rmax(μm)
Hardened : 0.8~3mm
Tolerance : 96
Out Diameter : Ø3~Ø150
Overall Length : 510mm~3010mm(6,000mm)
Straigtness : 60μm/m(30μm/m)
Roundness : g6(6~17μm/m)
Cylindericity : 4~14μm(Ø3~Ø150)
Mark
Materials chemical composition(S45C) %
C
Si
Mn
P
S
CU
Ni
Cr
Mo
S45C
0.42~0.48
0.15~0.35
0.6~0.9
0.03~0.012
0.01~0.03
0.1~0.3
0.06~0.2
0.06~0.2
0.145
Rockwell : H

R

C 54~56
Roughness : 0.6S~1.5S Rmax(μm)
Hardened : 0.8~3mm
Out Diameter : Ø2~Ø100
Overall Length : 500mm~3000mm(6,000mm)
Straigtness : 60μm/m(30μm/m)
Roundness : 96(6~17μm/m)
Cylindericity : 4~14μm(Ø2~Ø100)
KLS has been producing a high-quality, high-precision slide shaft, which is comparable to the shafts imported from overseas in terms of quality and performance, based on its unique technology accumulated over the years and various kinds of production facilities. Especially it will provide the customers with the satisfactory function of high-quality, high-precision linear motion in addition to its excellence in surface roughness, roundness, straightness, hardness and cylindricity. As KLS is carrying a number of shafts as its standard inventory, please never hesitate to contact us for the purchase of them at a competitive price.
Application
It has wide industrial applications for the slide parts such as ball bushing slide shaft, CONC guide shaft, control loader, industrial robot, digital 3-dimensional measuring device, automatic recording device, piston, shaft spindle of computer & its peripherals , various measuring instrument, card reader, punching press, tool grinding machine, automatic gas cutter, guide rod, printing machine, shaft for heavy equipment, food packaging machine, injection machine, vertical movement, pnematic/hydraulic rod, machine rod etc.
Hardness Curved Line(Ø16)
Shaft O.D.
Effective Hardened Zone
Ø1~Ø5
over 0.5mm
Ø6~Ø12
over 1.0mm
Ø13~Ø50
over 1.5mm
Fine Shaft
The KLS fine shaft is standardized as the most frequently used slide shafts with the HPJ slide bush. The diversification of industrial needs for rationalization, energy conservation, lower cost, etc. is proceeding rapidly. In such an environment, KLS Fine Shafts are mass produced to maintain the highest quality and accuracy while lowering the component cost.
Part number structure example

Fine Shaft(SF Type)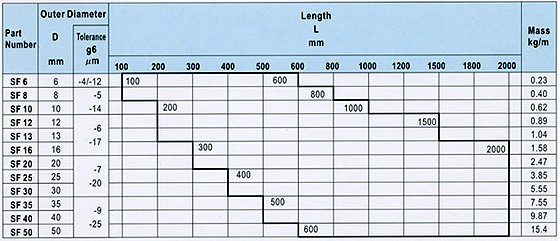 Material: high-carbon chromium bearing steel(SUJ2) hardness: HV697(60HRC) or more

Pipe Fine Shaft(SFH Type)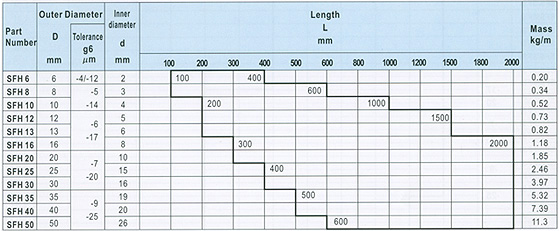 Material: high-carbon chromium bearing steel(SUJ2) hardness: HV697(60HRC) or more
Stainless Fine Shaft(SSF & SSFH Type)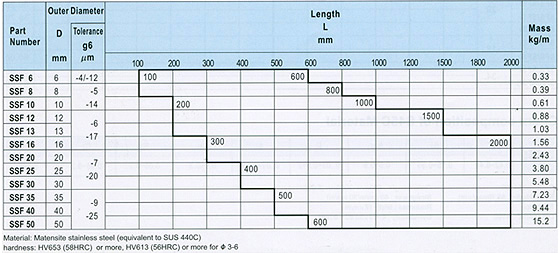 Fine Shaft S45C Material (SFS & SFSC)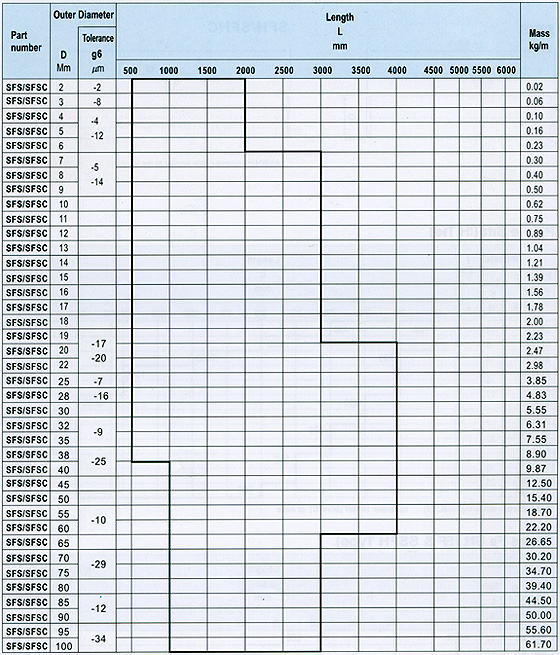 Chemical composition of S45C Material
S45C
C
Si
Mn
P
S
CU
Ni
Cr
Mo
0.42~0.48
0.15~0.35
0.6~0.9
0.03~0.012
0.01~0.03
0.1~0.3
0.06~0.2
0.06~0.2
0.145
Rockwell : H

R

C 54~56
Roughness : 0.6S~1.5S Rmax(μm)
Tolerance : 96
Out Diameter : Ø2~Ø100
Overall Length : 500mm~3000mm(6,000mm)
Straigtness : 60μm/m(30μm/m)
Roundness : 96(6~17μm/m)
Cylindericity : 4~14μm(Ø2~Ø100)