Vein Light
What is Vein Light
It finds vein location using infrared rays, shows blood stream visible.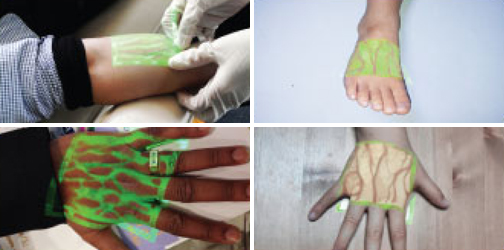 Features of Vein Light by DOSIS M&M
- Fully assess the patient and identify "invisible" deeper feeder veins that are the root cause of the problem.
- See veins up to 12mm deep, visualizing the procesure as it happens.
- Visualize the procedure as it happens; watching fluids clear the blood.
- Potentially avoid an infiltration.
Merits of Using Vein Light
- It is easier to treat IV patients
- It reduces risks of CR-BSI
- Vein-light increases profits with faster treatments
- It gives stabilities for kid patients
- Available for all skin colours

Various indications of Vein Light
- Dermatology
- Plastic Surgery
- Pediatrics
- Obstetrics
- Laboratory medicine
- Oncology
- Other clinics involved in blood vessel

Specification
Processing mode

NIR pass filter CPU

- Clear image quality

Charging time

2~3 hours

- Short charging time

Duty cycle

Continuous

Camera resolution

1,300,000 BW

- High Resolution

Wavelength

430~440/540~550/630~640mm

- Wide range of visibility

Brightness

1~15 Lumens/2,000 Lux

- Wide range of brightness

Depth

10~12 mm

- Deep viewing depth

Image color

Red, Blue, Green, White

Save mode

Smart image capture system
(USB Convertable)