Vertical Coal Mill
| | |
| --- | --- |
| Application | Cement Plant, Clinker Grinding Unit, Thermal Power Plant, Steel Mill, Mining |
| Capacity | 20-70 t/h |
| Motor Power | 110-1400 kw |
| Fineness | 80 μmR 3% |
vertical coal mill Overview
The coal vertical roller mill has less dust, low noise, high efficiency granular composition, and excellent combustion performance due to its special design and structure. Chaeng(Great wall machinery) Vertical Roller Mill has simple process, compact structure, product fineness of 80μmR 3%, with steady and average product fineness.

vertical coal mill Features
Product Profile
Vertical Coal Mill, also known as coal mill, for superfine grinding of raw coal, soft coal specifically for cement, power plant, steel mill and other fields. Its special design structure and production process creates the higher production efficiency with lower energy consumption, less dust, lower noise than ball mill, which meets national standard of energy saving industry. Great wall Machinery's Vertical Coal Mill technology reaches the international advanced level, and its manufacturing quality reaches the leading domestic level, and is the preferred equipment for grinding raw coal and soft coal.
Process flow
1. Raw coal from the yard are conveyed through screen to belt conveyors. The raw coals after iron removal by electromagnetic separator are put into the warehouse for storage.
2. After grinding system has started, please turn on the rod valve in the bottom of raw coal storage, and start sealing measuring belt to coal mill, then raw coal will be dryed and ground in the vertical coal mill.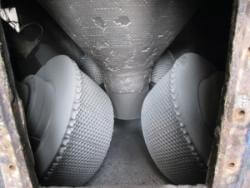 3. The mixture of hot air or waste gas of cement production line are sucked into Vertical Coal Mill, under blower's function. After complete heat exchange with ground coal, the coal powder are brought to separator for separation. The unqualified coarse coal powder falls to the grinding table for regrinding. The qualified coal powder will be collected with the airflow into the anti-explosion impulsive dust collector, through the grid wheel are discharged into pulverized coal storage.
4. The debris of raw coal, such as coal gangue, metal block, etc. will be discharged through the wind ring, discharge hole.
Product advantage
1. Complete function, perfect performance.
As a professional manufacturer with nearly 60 years manufacturing experience, Great wall Machinery keeps proceeding optimization and upgrading products and adopts the most advanced Japanese UBE technology, integrates crushing, drying, grinding, grading, transportation and other functions into one system. The improved function of vertical coal mill reduces customers' investment on related auxiliary equipments, but also enhances the systematicness.
2. High grinding efficiency, low operation cost
vertical Coal mill adopts directing grinding with roller on top of grinding table for direct grinding, with high grinding efficiency, low energy consumption and guaranteed product. With continuous development of vertical mill technology, the roller route design is perfect, and it forms material layer easier than ordinary vertical roller, the required product fineness and improved capacity can be reached. Meanwhile, application of high quality wear-resistant material increased its stability, and reduces the abrasion, so as to ensure continuous operation of production line.
3. High quality final product.
It adopts the material layer grinding principle to guarantee product fineness.
GRMC series vertical coal mill adopts the most advanced dynamic and static combined separator, which has high classification efficiency, large adjustment scope, and can meet fineness requirements of 0.08 mm with retained percentage below 3%, can meet requirements for fault coal or anthracite in majority cement production lines.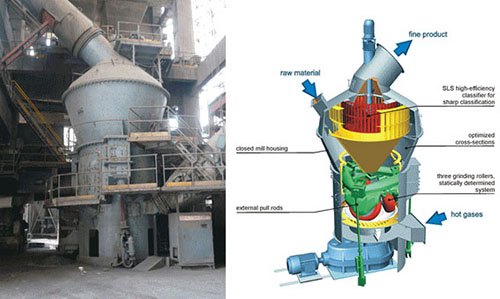 4. Energy-saving, environment protection.
As a professional coal mill manufacturer, Great wall Machinery provides customers with high quality coal mills, but also pays more attention to environmental protection. Great wall Machinery Vertical Coal Mill with advanced grinding mode, so that energy consumption is reduced by 30%~40% compared with that of ball mill. Due to its unique sealing structure design, the whole system is under negative pressure, so there is no dust in the production process, noise. It is an environmental protection coal- grinding equipment.

vertical coal mill Specifications
| Model | Grinding Diameter (mm) | Roller Diameter (mm) | Roller Number (n) | Motor (kW) | Output (t/h) |
| --- | --- | --- | --- | --- | --- |
| GRMC12.21 | 1200 | 900 | 2 | 110 | 5 |
| GRMC16.21 | 1600 | 1000 | 2 | 250 | 12 |
| GRMC18.21 | 1800 | 1120 | 2 | 330 | 18 |
| GRMC20.31 | 2000 | 1250 | 3 | 430 | 20 |
| GRMC22.31 | 2200 | 1400 | 3 | 590 | 30 |
| GRMC23.31 | 2300 | 1450 | 3 | 640 | 35 |
| GRMC26.31 | 2600 | 1600 | 3 | 810 | 44 |
| GRMC28.31 | 2800 | 1750 | 3 | 1000 | 55 |
| GRMC30.31 | 3000 | 1900 | 3 | 1250 | 65 |
| GRMC35.31 | 3500 | 1900 | 3 | 1400 | 70 |
Note: Mill spectral pattern benchmark
Material medium friction HGI=55~60;
Material moisture max 10%
Finished product granularity 80mmR3%;
Finished product moisture 0.5~1.0%;
The concrete mill installed power and technology parameter will be adjusted appropriately basing on the actual material property and the requirements of owner.