PE Plastic Duct Cover Film--Duct Protection Film--Vent Film

Yuka/Haiyang City Enfee Packing Co.,Ltd
WhatsApp/Cell: +86-13406599207
Skype:yukajiang
​WeChat:yuka_jiang2012
yukaenfeepacking(at)163.com
Description:
Enfee Dual Film(Duct cover film) is a high tack adhesion film, specially designed as a temporary closure protection to the uninstalled or partially installed opening duct, HAVC under construction or in transit. Duct Cover Film also helps to meet SMACNA guidelines for providing temporary closures on open ductwork.
It has a very high adhesion, yet it won't leave a residue on metal after removal. This durable film is very resistant to tears and punctures.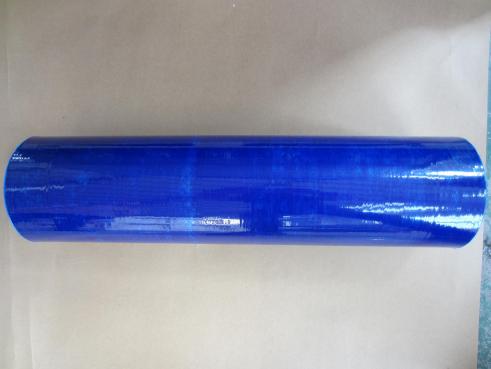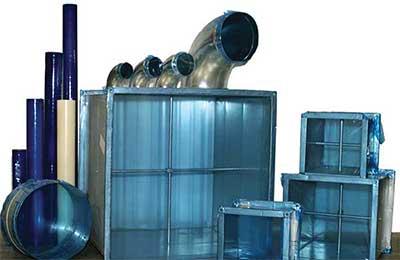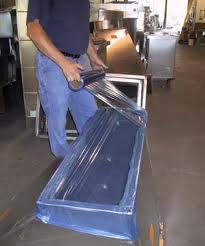 Basic Use:
Enfee dual film is designed to be placed at the ends of the opening of the ductwork during storage and transportation, to protect the inside of ductwork form dust, dirt, insects, moisture, and also other particulates that can accumulate in the duct that can lead to poor indoor air quality.
Enfee Duct Cover Film can be used on a wide variety of different sized ductwork. Roll sizes ranging from 18" to 48" wide are available so that you can protect any type of ductwork quickly and easily. The entire thickness of duct protection film is 45microns,2mil, 2.5mil, 3mil, so it can prevents from tears and punctures.
Features:
--Removable
Can be removed without leaving any residue;
--Soft
Product remains intact over bends and curved surfaces
--Durable
High resistance to tears,
--Adheres to Galvanized,stainless steel, Aluminum, PVC coated, etc.
--Can be used indoor and outdoor, stand up to the rain, sun, snow, etc.
Technical Data:
Thickness:

45microns,2mil, 2.5mil, 3mil

Peel adhesion to stainless steel:

1.6N/cm

Breaking strength:

4100psi,this figure is correct, we export this kind of films to many countries.

Elongation at break:

600%

Tensile strength:

2.0mil:9.0 lbs/in

2.5mil:13.10 lbs.in

Features:

Removable: can be removed without leaving any residue

Soft: product remains intact over bends and curved surfaces

Durable: High resistance to tears

UV resistance: good

Normal size:

24''x200', 24''x400', 36''x200', 36''x600', 48''x200', 48''x800', other size can be made as your requirement.

Shelf life

Can be used well under room temperature and avoid from direct sunlight.
The technical data listed above is only the average values. Our suggestion for application is based on our test result, for other application not suggested you want, please determine the suitability of the product.

Company Information:
1.Haiyang City Enfee Packing Co., Ltd, please remembers our company! We have our own blowing machines, coating machine, cutting machines; our workers are with good technology.
2. We export to many countries, so we have much experience in the exportation, and then we can give you good custom clearance services. This is very important, with this we can deal with some urgent things!
3. We have stable quality films, this is the potential advantage, quality is most important in competitive!
4. New product development: we can study and develop new products for you because we have the technical teams with more than 10-year experience in this line.
5 .Quick delivery time: we have many production lines, our workers have high quality, so we can produce your orders quickly, then make sure your delivery time.

Yuka/Haiyang City Enfee Packing Co.,Ltd
WhatsApp/Cell: +86-13406599207
Skype:yukajiang
​WeChat:yuka_jiang2012
yukaenfeepacking(at)163.com