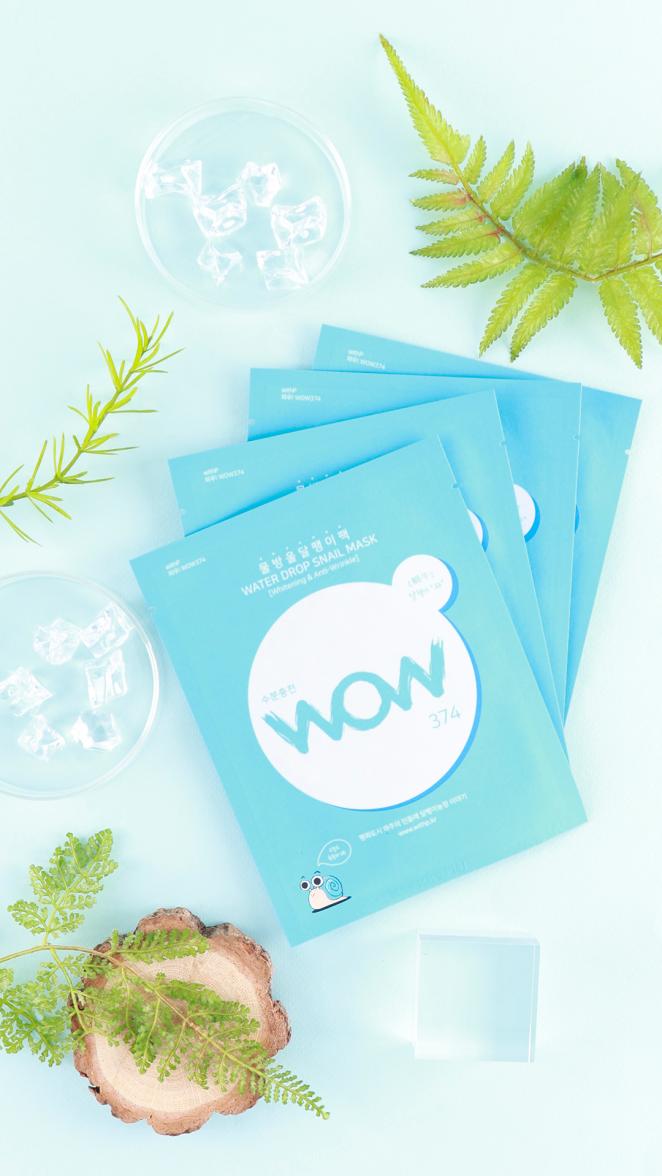 WOW374 Water Drop Snail Mask
Packing Unit : EA / Sales Price : 2.6$
Carton Quantity : 400 ea / Carton Weight : 15.4 kg / Carton Size (W*D*H) : 420*310*400 mm
Country of Origin : Republic of Korea
Manufacturer : CSP Korea Co., Ltd. Shelf Life : 36 months (in closed state)
Standard : 25g
Composition : EA
Explanation
1. Contains Snail Secretion Filtrate
Contains mucin from snail's surface prevents moisture from evaporating and supplies moisture. Effective for moisturizing, anti-oxidant effect, and anti-wrinkle effect.

2. Skin Soothing Effect from 4 Herbs
Components extracted from corn mint, scented geranium, matricaria flower, and citronella sooth irritated skin effectively.

3. Maximized Moisture with Sodium Hyaluronate
Moisturizing factor inside the skin keeps the moisture. Contains moisture for refreshing finish in hot summer and hot skin.

4. Mild Bamboo Sheet
Uses a bamboo sheet with less skin irritation for people with a sensitive skin.
Characteristic
Contains 1% of Snail Secretion Filtrate
Skin soothing effect with 4 herbs
Sodium hyaluronate for keeping the moisture inside the skin
Uses a mild bamboo sheet
[Targets] Dry or hot skin in hot summer
[How to Use] Use before putting on make-up for better foundation expression / Use as a daily care in the last skin care step
We are trying to promote Paju as a city of peace.
First project of "withPproject" "Paju Dandelion Snail Farm and WOW! WOW374 "
Jobs and friends for people with developmental disabilities… They are lonely after graduation because it is difficult to find a job. And even if they get a job, they have no choice but to work in low pay and limited work. Paju Dandelion Snail Farm aims to create a small but happy space for people with developmental disabilities to make better jobs and better friends for life. Cosmetics using snail raw materials raised by people with developmental disabilities! Your small participation can make a big gift for people with developmental disabilities. It's what makes their jobs and their workmates.
Brand introduction
These are the first of the Wow 374 brand, products in July 2019. The "Snail Farm Story" webtoon created with the help of Park Chan-seop was created with the motifs of real farm characters. The main character, the snail "Art", is a malformed snail with a reversed helix born at a million probability. That is why it is a character that can sympathize with a lot of employees with snail farm development disorder.