Wp pure tungsten electrode
1. Application: inert gas arc welding, plasma welding, cutting, spraying, melting electrode, ect.
2. Features:
(1) High melting point, arc stability, no self - consumption.
(2) Add 0.03 ~ 4% Th02, Zr02, La02 and Ce02 in tungsten to reduce the burning loss of tungsten electrode, increase its service life and avoid polluting welding seam.
(3) increase the electron emission ability of tungsten electrode, make it arc starting current, stable arc current is small, arc starting gap and arc breaking gap are big, so the quality of welding seam is high.
3. Specification range and dimensional deviation of top quality thoriated wt20 tungsten electrode .
Dia:Φ0.5~15mm Or other specifications customized by the customer.
Dia:≤Φ2.0.mm Tolerance zone:士0.05mm
Dia:≥Φ2.4mm Tolerance zone:士0.1mm
Length deviation:士 1mm
4. Flatness: no more than 0.5% of electrode length.
5. Surface quality: smooth, clean, without defects (cracks, cracks, peeling), no oil and other impurities.
6. pureTungsten electrode wp two end faces should be neat, smooth, no burr, no internal defects (loose, impurities) section.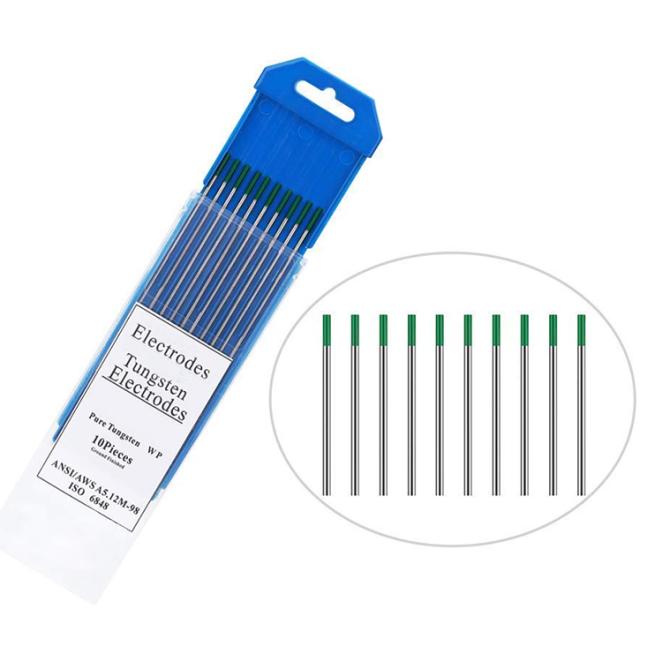 Company Profile
Baoji Sanhe Jinyuan metal technology Co., ltd. is located in rare metal research and production base - baoji ,china. With the complete rare metal processing equipment and strict IS09001 quality certification system.
We have been specializing in developing, manufacturing and trading 3 kinds of product series.
1.Thorium-tungsten electrode, Lanthanum-tungsten electrode, Cerium-Tungsten Electrode, Zirconium-tungsten electrode, Yttrium-tungsten electrode, Pure tungsten electrode, composite tungsten electrode,etc.
2.Tungsten Tungsten bar, tungsten rod, tungsten wire and other tungsten products.
3. Molybdenum bar, molybdenum rod, molybdenum wire and other molybdenum products.
We have hydrogen production, annealing furnace, rotary forging machine, chain, all kinds of wire drawing machine, grinder, and other rare metal processing equipment. And we can produce tungsten, molybdenum, tantalum, niobium, titanium, nickel, and its alloy bar, bar, wire, plate, foil and its deep processing products ect. Among them, tungsten wire (rod), thorium tungsten wire (rod), tungsten alloy wire (rod), white washing, straightening or disc, polishing are widely used in electric vacuum, electric light source industry, its superior performance, has a certain reputation at home and abroad.
FAQ
Q1: Can i have a sample for testing ?
A: Yes, we highlt welcome a sample of the pure tungsten electrode first to check the quality and the market.
Q2: Is it ok to add my logo on the product ?
A: Sure,OEM and ODM are available for us, such as print logo and stick lable on pure tungsten electrode.
Q3: What's your MOQ?
A: We are a manufacturer that we have our own factory, we could produce any quantity of pure tungsten electrode as your request. But as you know, the more the quantity of your order is, the lower the price will be.
Q4: Do you have inspection procedures for pure tungsten electrode?
A: 100% self-inspection before packing. We provide Quality Certification for every order .
Q5: How to deal with the faulty ?
A: Firstly, Our top quality pure tungsten electrode wp are produced in strict quality control system and the defective rate will be less than 0.2%.
For defective batch products, we will repair them and resend them to you or we can discuss the solution including refund.
Q6: Are you trading company or manufacturer?
A: We are a factory and exporter for tungsten electrode.