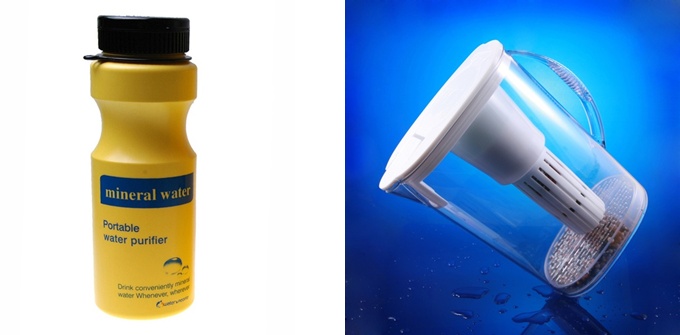 Potable water purifier
For sports,journey,mountain climbing,leisure,fishing,when water is not allowed to drink.all purifying function as usual reinforced with sterilization ceramic added,and so protect most of water borne infects. SO CAN BE USED AS FOR THE SURVIVAL KITS!!!
Dream tree pitcher(WP-2700)
Enjoy the anti-oxidant water to remove free radicals and making alkaline by the ionized calcium. So easily drink the healthy water at home, office and any places.

ALL OUR PURIFIER IS WITH CALCIUM MINERALS
AND ECONIUM (STERILIZATION CERAMIC) !!!

" First in the world ! New concept of perfect water purifier !"

*Standard type
Purify the water + minerals + alkaline ( hydrogen and oxygen)
( Making alkaline by ionozed calcium not by Potassium nor magnesium)
( Sterilization & Anti-Bacteria ceramics(ECONIUM).. removing bacteria (coliform,staphylococcus,pneumococcus) heavy metals (lead 95%,mercury 85%,arsenic 45%,cadmium 43%,chromium 32% etc...))

*Special type

Even arsenic & radioactiv isotope( thecium etc...) removal purifier available!

STORY ABOUT THE (0) WATER PURIFIER
Currently there are hundreds kinds of water purifiers in the market.
However, it is not easy to choose the good and right one because they are making so many story telling. It has been progressed to several generations so far......

a) First generation
Purify and clean the water to remove harmful materials and sediments.
b) Second gerneation
Whether the water has the minerals inside.
c) Third generation

Alkaline water or not and talking about many other things...Hydrogen,ORP, energy etc...?
Every purifier in the market are almost same,
BUT YOU APPEAL AND ASK what material makes alkaline mineral water???

ALMOST, it is made with potassium(K+) and Magnesium (Mg+) whc can be clitical and dangereous to the heart and kidney in case of overuse.Only concern about the alkaline but not care whether it is have any side problems bec of technology...
The reason is the simple and only technology they have so far. It is very difficult to make the calcium to work bec it's reaction is too fast and prolong it's fuction. However, first in the world, we have developed this calcium to properly. And, we have only patented material to make alkaline minerals " calcium ionized' one first itn the world and got the US FDA approval as clinical one.


As you may know we have 4% minerals in our body and about 80% is calcium whc means we do use calcium a lot in our body to make our body weak alkaline condition without any problems for bone structure,nerve transmission,fat removal and anti cancer working, muscle contradiction and relaxation etc...so many imports portion.

Calcium is mainly work for body alkaline and important material for nerve transmission(lack of calcium make the nerve system malfunction)

The another important sales point:
And Generally ,body use much enregy in nowadays circumstances and stressful living world and so body condition comes down and the brain wants more sweet one to restore the brain energy(brain only use sugar and oxgen).so we are apt to take sweet one.
When we take sugar whc make our body acidized whc destroy our body blood vessel and cell and all organs.
In order to protect this,our brain order to keep fat as much as possible to restore the acidized materials and fatty cell into the belly.
And so the fat never disappeared as long as you do not change the eating habbit,however,practically you must take sweet ones under the cicumstances you are in.
Calcium works as for alkaline and so no need to take up the fat cell and so they can loose the fat gradually.Moreover, when lack of calcium,our body use the calcium from the bones and teech and so many people there,are suffering from joint pains at the knee etc...
( This is what we call: calcium paradox...calcium is stimulated inside the blood vessel bec lack of calcium!!!)

This is the strong point of our water purifier!!!!!!!!!
Re: Bio minerals
If anybody look into carefully the biominerals who will understnad the importance of calcium and other menerals. As you know,the source of energy in our body is:
Carbohydrate
Lipid
Protein(long time ago,they say only 3 is the main of energy)
Later found that these elements does not have self-activation and absolutely need starter(activator)
to make nutrients(energy) that is mineral.
Even the vitamin function needs minerals and c-working.

Minerals
Vitamin
Water

As you know, all menerals should be supplied,of course,however,calcium takes more than 86% among all minerals which mkeans absolutely we need a big demand in our body of calcium. As told you,it is very difficult to make ionized calcium bec of technology(too active in our body).
Too active means our body use calcium for many:
1.main for bone structure
2.prevents and treatment of osteoporosis
3.activates nerve transmission(so lack of calcium,people apt to be in blue)
4.protection and treatment of cancer
5.treatment of high blood pressure
6.lowers cholesteral & prevents cardiovasecular
7.alleviates cramps in legs
8.treating & preventing arthritis
9.prevent skin aging
10.help enzyme for fat splitting

When our is getting oxidizing,our body reacto to make our body in alkaline by using of calcium.
If the calcium is not enough in our body,they use the calcium from the bone and teeth.
This is why many people is suffering from osteoporosis and joints.

Please DO NOT MISUNDERSTAND that we do not say only CALCIUM is needed !!!
All other minerals also needed but we emphasize the balance of the mineral amount.
Our caramic has all minerals but mainly calcium.

You can see the below:
calcium 2.2 %
phosphorus 0.8
potasseum 0.35
sulfur 0.25
chroline 0.15
sodium 0.15
magnesium 0.05
iron 0.004
manganese 0.0003
copper 0.000015
iodine 0.00004

4% of our body weight is mineral and among which 86% is calcium. For other side of composition Human body's composition elementscalcium cobalt,fluorine,silicon,zinc...trace mineral.

You can see the calcium is almost mor than 80% with comparision to other minerals,whc means the balance is very important.'However,the market products and minerals does not give this balance and misguide the users only saying the alkaline portion.Of course,kalium and magnesium are alkaline making mineral but nobody issue the balance and side effect of unbalance of minerals. Whenever, I meets any doctors and makers ,i explain this but they run away.

All cover their face and money making is first. Adn when they drink first,it works great bec it changes our body from acid to alkaline condition. But use long makes the problems.
For example,japan started alkaline water making machine about 15 years ago,and so many cancer patients happened and health ministry trace down the cause and found out the long use of alkaline water making machine.Bec of overuse of this,can cer caused by overuse of alkaline water(so called alkalosis)

KALIUM and MAGNESUIM i;
kalium is mainly positioned inside the cell and trace amount should be at outside of the cell.This is mainly for muscle activity especially for heart muscle.When this amount is oversupplied,it makes unnessesary muscle action ,especially heart. And quite dangerous to heart. Magnesium is also acting for muscle activity but mainly working with calcium.
So magnesium always going together with calcium. If overuse,it also making over muscle contration. One interesting story,why meat-eating person is apt to be hot temper and offensive...because of in meat and our foods have lots of kalium. Fast food and meat eating western society,young generation juvernile dilinquency is this reason.
Too much active to muscle.
There are one other report, human or animal(especially monkey) who enjoy banana lot are much offensive and attackable becd banana has alot of kalium.In our daily food,we do have much kalium already.Ours are only US FDA arrpoved as the clinical mineral. As the alternative doctor,i always try to deliver the right and correct information for health .