Double Decker Tent, Two Floor Tent with Glass Wall, Two Floor Marquee for Golf Events

1. Application of Double Decker Tent
It is equipped with glass wall, ABS wall, decoration roof lining, inside curtain, pagoda tent entrance.The tent series are widely used as the party tent, wedding tent, exhibition tent, conference tent, festivals celebration tent, corporate events tent or other events, etc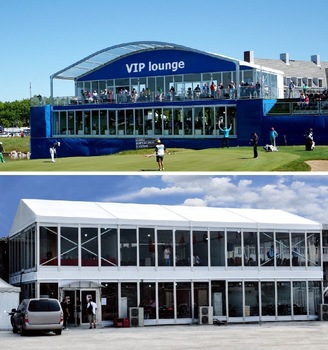 2. Specification for Double Decker Tent
· Frame struss: hard pressed extruded aluminium 6061/T6(15HW) which can last more than 20 years.
· Fabric cover: high quality double PVC-coated polyester textile, 100% waterproof, flame retardant to DIN4102 B1, M2, CFM, UV resistant, tear resistant, self-cleaning ability, etc.
· Connector: strong hot-dip galvanized steel
· Allowed temperature condition: -30 degree Celsius~+70 degree Celsius
· Wind load: max. 100km/h (can be reinforced)
· Snow load: 75kg/sqm (snow can't stay if use big degree roof pitch design)
· Easy to be assembled and dismantled, movable.
· No pole inside, 100% available interior space.
Type
Span Width
Bay Distance
Eave Height
Ridge Height
First Floor Height
Main Profile
DDS
10m/32.8'
5m/16.4'
6.75m
8.5m
3.21m
300x120x5mm
DDS
15m/49.2'
5m/16.4'
6.75m
9.34m
3.21m
300x120x5mm
DDS
20m/65.6'
5m/16.4'
6.75m
10.17m
3.21m
300x120x5mm
DDS
25m/82'
5m/16.4'
6.75m
11m
3.21m
300x120x5mm
DDS
30m/98.4'
5m/16.4'
6.75m
11.75m
3.21m
300x120x5mm
DDS
40m/131.2'
5m/16.4'
6.75m
13.5m
3.21m
300x120x5mm
ADDS
15m/49.2'
5m/16.4'
6.75m
8.6m
3.21m
300x120x5mm
ADDS
20m/65.6'
5m/16.4'
6.75m
9.43m
3.21m
300x120x5mm
The length can be extended by 5m bay such as 15m,20m,30m,40m...Customized size is available.

3. Optional Accessories of Double Decker Tent
· Covers: colourful cover, transparent cover, inflatable roof cover
· Windows: dome or square clear PVC windows, mesh window, glass window for glass wall
· Wooden Flooring System: VIP cassette flooring, simple cassette flooring
· Doors: double-wing glass door, single-wing glass door, glass fire door, aluminium door, rolling shutter(automatic or manual)
· Wall: soft PVC fabric wall, glass wall, ABS hard wall, sandwich panel wall, steel plate wall
· Fixing Methods: ground anchors, weight plate, expandable bolts
· Rain Gutters:inner roof beam rain gutter or rain gutter between two similar tents
· Other Optional Items: table, chair, lighting, AC, carpet, installation tools etc.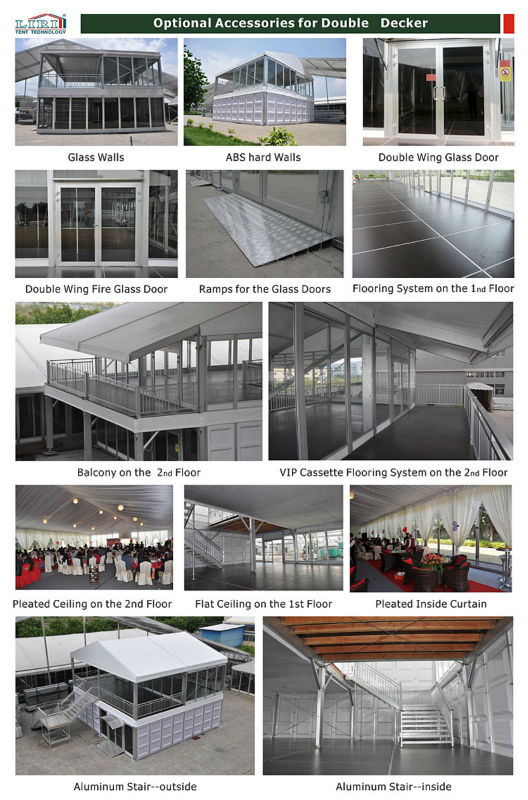 4. Packaing of Double Decker Tent
1. aluminum frame packed in membrane film
2. hardware packed in solid carton box
3. roof and sidewall in professional PVC carry bag

5. Products certificate of Double Decker Tent
· National High-tech Enterprises
· ISO 9001:2008 Quality Control Standards
· IFAI Certificate of Membership
· American Rental Association Associate Membership
· Practical Type Patent Certificate
· Liri Tents Trade Mark Certificate

6. Liri Tent Successful Cases:

· Kinds of New Style Tent for China Open
· Canton Fair Exhibition Hall
· 2011 Universiade Official Tent Supplier
· 2010 Asian Games Exclusive Tent Supplier&Sponsor
· Dior Event in Hong Kong
· China Grand Rally Sponsor
· Hong Kong Wine and Dine Festival

We are a one stop shop for all your tents, event party rental and wedding needs. For more details please Contact us Now!
Contact person: Ivy Lee
Mobile and WhatsApp+ 86 159 1633 2440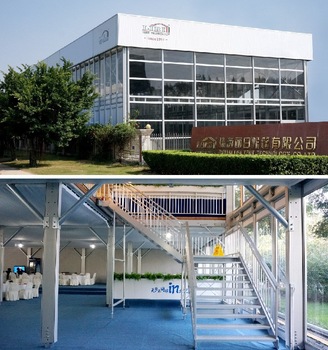 Tag:

7. Contact Us
Company Name: Zhuhai Liri Tent Technology Co., Ltd.
Sales: Silvia Zeng
Tel: +86-756-6302920 Fax: +86-756-5311018
Mobile & whatsapp : +86-18818651016