Wellhead 2 9/16" x 10000 psi Kill manifold well control
2 9/16" x 10000 psi Well Control Kill Manifold
Introduction of the 2 9/16" x 10000 psi Kill manifold
The 2 9/16" x 10000 psi Kill manifold is the control equipment during drilling well, used to kill the well and open flow to
release well bottom pressure. In the course of drilling when the normal method of mud circulating down through drill pipe
is out of control, the kill manifold can directly connect mud pump and pump the adjusted mud into the well, reaching the
aim of controlling oil&gas well pressure.
Technical information of the 2 9/16" x 10000 psi Kill manifold
Cold working press Mpa(psi)

21Mpa

(3000psi)

35Mpa

(5000psi)

70Mpa

(10000psi)

105Mpa

(15000psi)

Nominal diameter

2-1/16in~4-1/16in

Working temperature

-29~121℃

Product specification level

No less than PSL3

Material grade (valve, joint)

EE-FF

Working medium

mud, petroleum, natural gas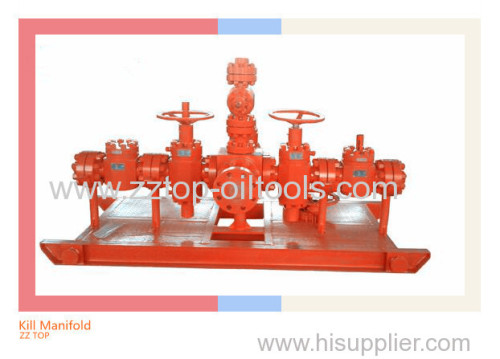 ZZ TOP Facility
ZZ TOP OIL TOOLS CO.,LTD is the experienced and expertized manufacturer for wellhead equipment,
provides cost-effective wellhead equipment in a wide range of pressure and sizes available to
accommodate most casing sizes, which are designed complying with API6A, API 16C and API16A
specification levelsand performance requirements for land, platform drilling and completion applications.
We offer industry accepted primary and secondary seals, as well as tubing hangers with resilient or metal-to-metal sealThe main products including Xmas tree, Choke manifold, kill manifold, drilling spool, dapter spool, casing head, tubing head, DSA and other related valves & flanges.
We insist on the traceability and series on each products, as well as the good quality with reasonable price.