Whaleflo Diaphram Adblue pumps and accessories
Suitable for use other liquids from the urea manufacturing process. They are diaphragm pumps with a by-pass Which is designed to dispense products called Ad Blue, AUS32 or water, and also widely used in chemical equipment, agriculture (lawn and garden), carpet cleaning, floor/ground cleaning, and water treatment equipment.
Suitable for IBC transmission systems, permanent magnet pumps work continuously.
we offer 12v/24v/110v/230v adblue pump.
Specification
Model Number: HV-25A
Body Materials: Aluminum
Voltage: AC 220V
Current: 1.0A
Pressure off: 60~80PSI
Frequency: 50/60Hz
Flow(Liters/Min):17- 25L(4.5-6.6GPM)
Power: Electric
Pressure Switch: Build in
Speed: 2700rpm
Liquid of Transfer: AdBlue, AUS 32, Water etc.
IP55 Protection, CE
Features&Highlights
| | |
| --- | --- |
| Self Priming | More than 3 meters |
| Port Size: | Hose tail connection 3/4'' |
| Pressure Max. | 40PSI (2.8Bar) |
| Diaphragm Material | Viton |
| Check valve Made | Viton |
| Voltage: | 12V,24V DC, 115V,220V,230V AC |
| Power: | ON/OFF Switch |
| Body Material(DC) | Polypropylene |
| Body Material (AC) | Aluminium |
| Liquid of application: | Water,oil, Urea, |
Whaleflo Diaphragm Adblue Pump material: aluminum alloy, durable, corrosion resistant, high quality
Permanent magnets and continuous load: maintain a good motor to maintain a stable temperature of the 2m wire plug of the pump body

Whaleflo Self-priming water pump: can be located above the water tank and dry in a short time (up to 20 minutes) without damage

Easy to operate: on/off switch, built-in pressure switch for automatic start or stop when the faucet is opened and closed

Application: Suitable for applications where liquids are transferred from one location to another, such as AdBlue, AUS32 or water etc, spraying, recycling, irrigation and distribution
Note:They must not pump gasoline, chemicals, high viscosity liquids, solvents, etc.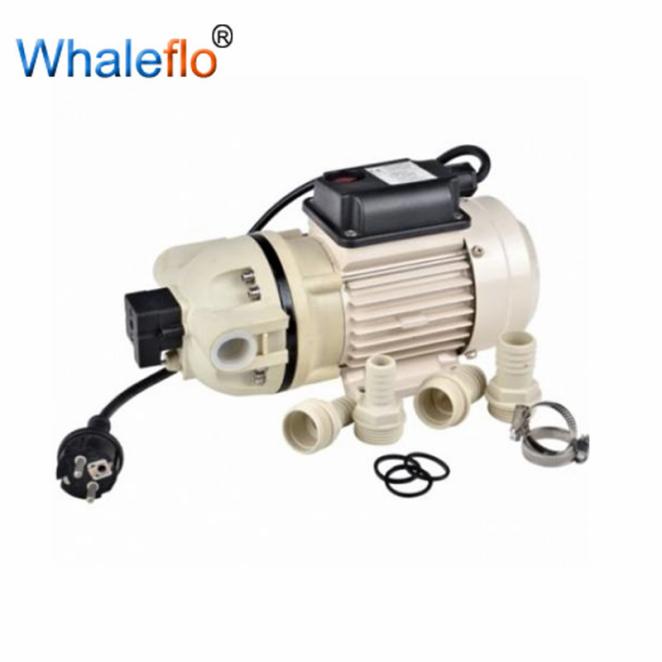 | | | | | | |
| --- | --- | --- | --- | --- | --- |
| Item Code | Volt | Flow Rate(L/min) | Pressure (PSI) | Amps(A) | Speed(rpm) |
| HV-25A | 12V DC | 17-25 | 60-80 | 10.0 | 2700 |
| HV-25B | 24V DC | 17-25 | 60-80 | 6.0 | 2700 |
| HV-25S | 115V AC | 17-25 | 60-80 | 1.5 | 2700 |
| HV-25M | 230V AC | 17-25 | 60-80 | 1.0 | 2700 |