Hello, We are Oblique.
We've been thinking about what we need now and what we need in the future.
Smart devices that support wireless charging are increasing steadily across the globe.

So we're early enough adopted the most widely used Qi Standards. As a result, we were able to finish mass production of 'Oblique Zero' when Apple's new iPhone adopted Qi.
One step closer to the wireless charging era now.
There is only one item 'Oblique Zero' that is prepared in advance for the future

Features
OBLIQUE ZERO is a useful device in your real life
OBLIQUE ZERO is a smart device combines clock, wireless charger and LED mood light.
OBLIQUE ZERO has intuitive user interface and easy to control
We put ample effort in design thinking, to create better experiences and benefit for everyone.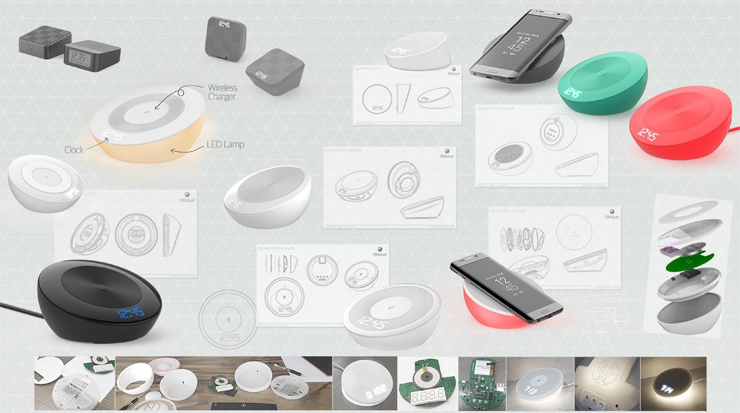 Key Specifications
Model
RZ101
This device does not support fast charging
Input
DC 5V 2.0A
Output
DC 5V 2.0A(max.)
Product size & Weight
116 x 113 x 57mm, 167g
Package size & weight
135 x 135 x 60mm, 270g
Work efficiency
75%
Charging distance
0~3mm
Working Temperature
0°C~35°C
KC
MSIP-RMI-DD1-RZ101
Mobile phones that support wireless charging
Samsung
Note8/S8+/S8/S7 Edge/S7
Apple
iPhone 8/8+/iPhone X
LG
G6+/V30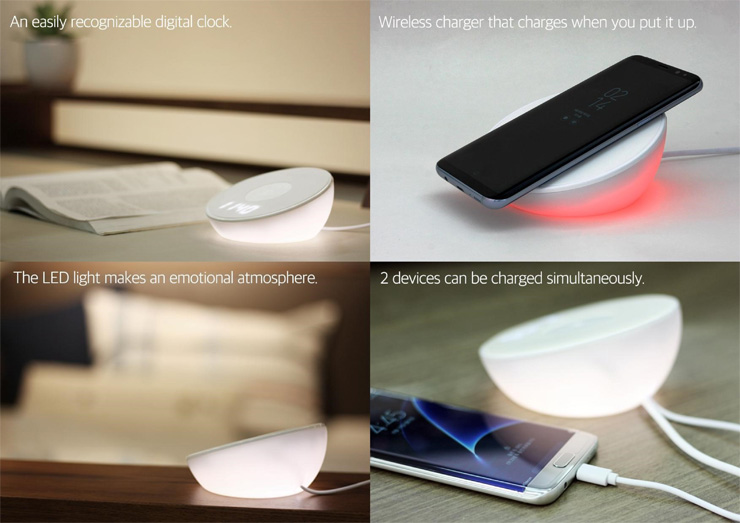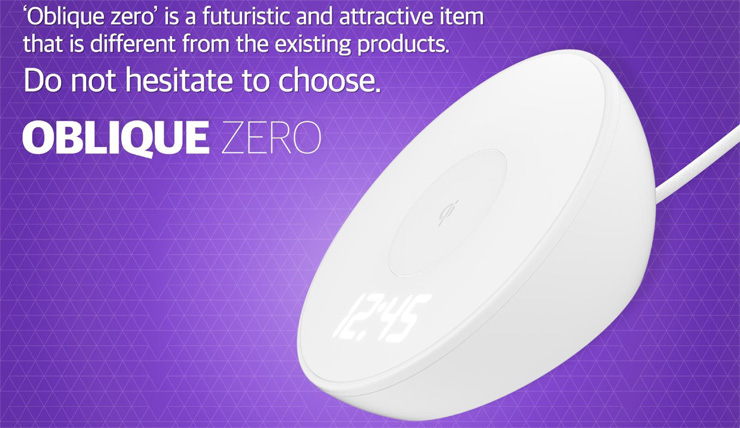 This is a great opportunity to preoccupy unique items in the upcoming wireless charger market.
Main function
Digital Clock
1. 12h/24h can be set
2. If you are sensitive to light pollution at night, you can turn on/off the display with the Hidden button at the top
3. Rated : 5V/2A is supported.(Adapter recommended specification)
LED Mood Lamp
1. It is a vibrate sensor that senses the impact and operates with a proper feeling regardless of its position.
2. Brightness is set to 1 level and 2 levels.(AUto off after 3 hours)
Wireless charger
1. Devices that support 'Qi'system can be charged wirelessly.
2. Charging indicator : Charging : RED/Charging complete : GREEN
(When charging the flicker occurs when the output is insufficient)
3. IC chip is built in to prevent output margin loss
4. Wired charging is also available.(USB charging port is built in)
Inside Structure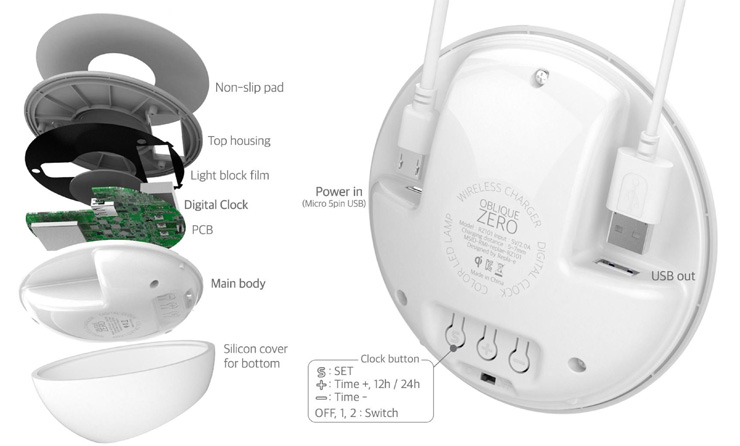 Major Compatible Device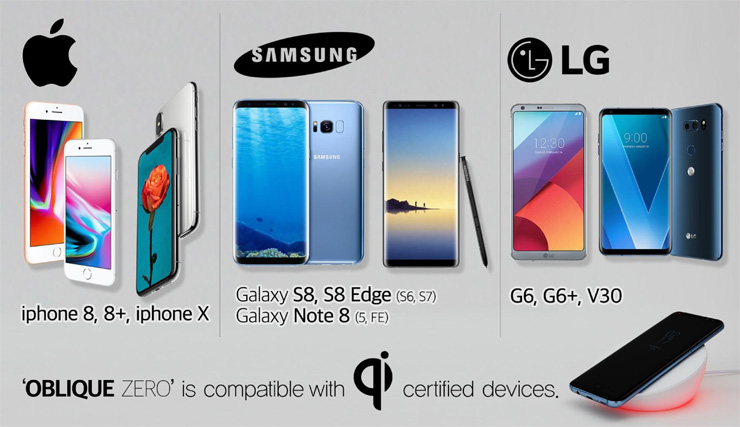 Product Manual

Basic
Remove Silicon cover from bottom of main body.
Pass charging cable thtoughout Cable hole of Silicon cover, connect to 'Power In' port for main body.
Assemble Silicone cover with main body, connect charging cable, then use.
*Unplug cable after fully charging internal battery. Clock standby time is 12~24 hours with mood light standby at 2~5 hours. And charging function will stop.(When internal battery is empth, clock will be reset)
Wireless Charger
Pace your smart phone in the center of the body for wireless charging.
Connect extra cable with USB Out port for wired charging.
Use adapter with 5.0V, 2.0A for charging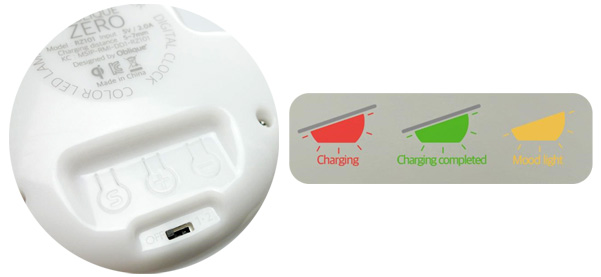 Digital Clock
Time set : press S button to adjust with +, - button for time setting
Press S button one more time and adjust +, - button for minute setting
Press + button, then select 12H or 24H mode.
Press Hidden button in upper part to turn on or off.
LED mood light
Use Mood light switch '1' stage for mood light.
Use '2' stage for mood light.
When charging(Red) Charging complete(Green)
Give an impact any place of device for mood light. (Device can sense minor vibration with touch sensor)
Mood light switch 'OFF' : All functions of mood light can be turned off.(Clock and charge still operational)
After 3 hours of Mood light, it will automatically turn off.
Caution
This device is compatible with Qi certified devices
Do use 5V, 2A charging adapter which is safety approved.
The device can be used in locations with an ambient temperature of 0°C to 35°C
Using or storing device outside of recommended temperature range may damage to the device or reduce battery's life span.(Do not store device in the car for hot summer weather)
Keep device away from credit cards, bank books and transit cards, it may damage of magnetic field.
Do change wire and wireless, but if it is not enough power supply, only one device could be chargeable.
Do not use wire and wireless charge with one device at the time Do use 2 devices for wire charge and wireless change is available.
During charge, device and your smart phone may have some heat, it is normal.
If power is not enough for charge(below 4.3V), Green and red light can be blinked and stop charge.
As for special smart phone, it may have overheated under wireless charge, then it stop charge. Green and red light can be blinked, it is normal. Do charge later.
Do use below 3mm thickness of smart phone case cover for proper operation.
This device is for smart phone only.(Do not use for Tablet PC)
Do place smart phone in the middle of device for proper operation.
Do use below 3M length of cable for proper operation.
This device does not support fast charging.
Do place and use this device in flat surfaces.
We do not support after service because of abnormal use.