Radius Grinding Wheels for Woodturning
CBN is is superior to all other materials for grinding hardened steel, it hardly generates a high temperature, because CBN has an extremely good conductivity for temperature. This is also helped by the shape of the metal body of the wheel. For woodturning wheel, there are two types. One is a mix of abrasive and a bonding agent, that is applied to an aluminum hub in a layer. The other type is a machined steel hub with the abrasive material plated to the surface of the wheel.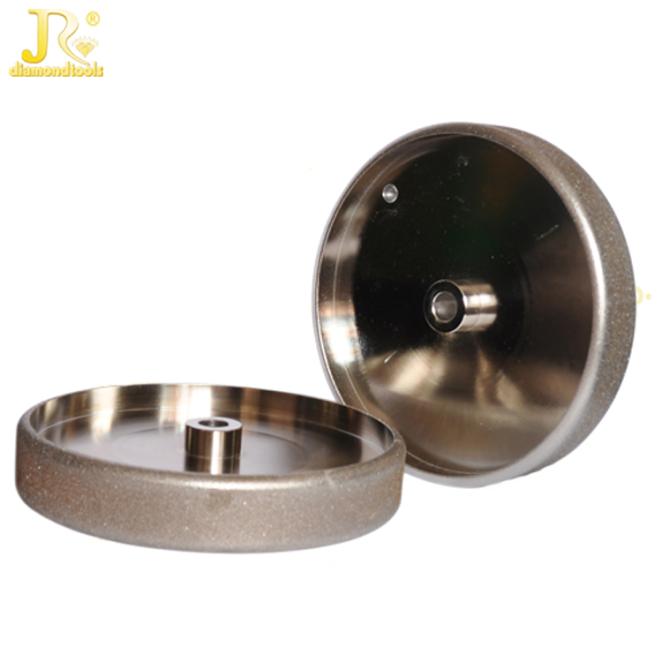 Size: D T H X R
6inch 1 1/2inch 1/2inch, 5/8inch, 3/4inch 1/4inch 1/4inch
Available Grit: 60 grit, 80 grit, 180 grit, 220 grit, 350 grit, 600 grit, 800 grit, 1000 grit, 1200 grit
Application:
Differently from aluminum oxide grinding wheels, woodturning CBN sharpening wheel cuts fast, stays cool and never needs dressing or shaping. With only a very light amount of pressure when sharpening and proper care, you can sharpen your tools to a razor sharp edge and never need to buy another sharpening wheel again.
Features:
1.These wheels are designed for use with bench-type grinders. 1800 rpm or 3600 rpm.
2. Produces a superbly sharp cutting edge
3. Fine finish on tool bevel 4. Fast, cool cutting action without coolant
4. Side surface for flat grinds on skews, scraper cutters and tool bits
5. No dressing or shaping required
6. Wheel stays flat, never changes shape