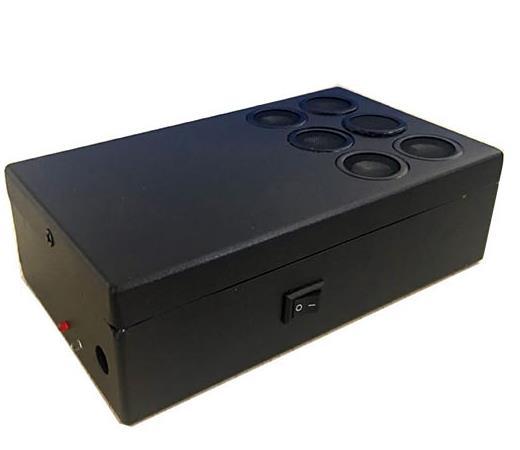 This YX-007mini-s recording shield is a highly integrated high-tech personal safety protection product independently developed by Tianjin Yingxun Technology Co., Ltd. When the illegal elements use recording equipment (such as mobile phones, recording pens, recorders, etc.) to record you, the recording shield will generate random noise signals, which can produce suppressive interference on speech signals, so that only noise information can be picked up by recording equipment, but it can not distinguish voice information, so as to ensure the safety of voice information. Widely used: leaders, bosses, stars and other high-end personal needs


technical parameter
| | |
| --- | --- |
| project | performance parameter |
| Shielding type | Mobile phones, recording pens and other sound acquisition devices |
| Shielding distance | 0.5-2m (shielding distance of different recording equipment is different) |
| Function angle | 90-120 degrees |
| Opening mode | Key switch |
| size | 145*85*45mm |
| weight | 450g |
| ambient temperature | -40℃~55℃ |
| relative humidity | 35~85% |
| Battery capacity | 2200mah |
| Charging input | AC 100V~240V |
| Charging output | DC 12v 1A |
| Packing instructions | Protective box |
1. This product uses radio frequency signal shielding recording equipment, so a little sound after opening is normal, according to the age of the response to the sound is different, this sound has no impact on the human body.



2. When testing, we should simulate the real use environment, communicate with normal volume, and do not need to increase the volume intentionally. This product takes into account its own noise and actual shielding distance, and adopts the best software version. If there are special needs, we can ask for a special version of the software!



Attention to product testing:



The product test shows that in order to prevent the man from recording his own voice, the woman just needs to turn on the recording shield and place it beside her. At this time, the recording device within the shielding radius of the recording shield can no longer record the woman's voice. Even if the man's voice is recorded, it does not matter. In practical use, only refer to the above description.