For a gamer,a desk is not just a desk.It's all about their lifestyle,taste,design,color and functionality.
The JEOgaming is rated one of the top gaming style desks manufacturer in China by many companies all over the world.
Our designers created it to optimize users gaming and computing experience with utilizable features.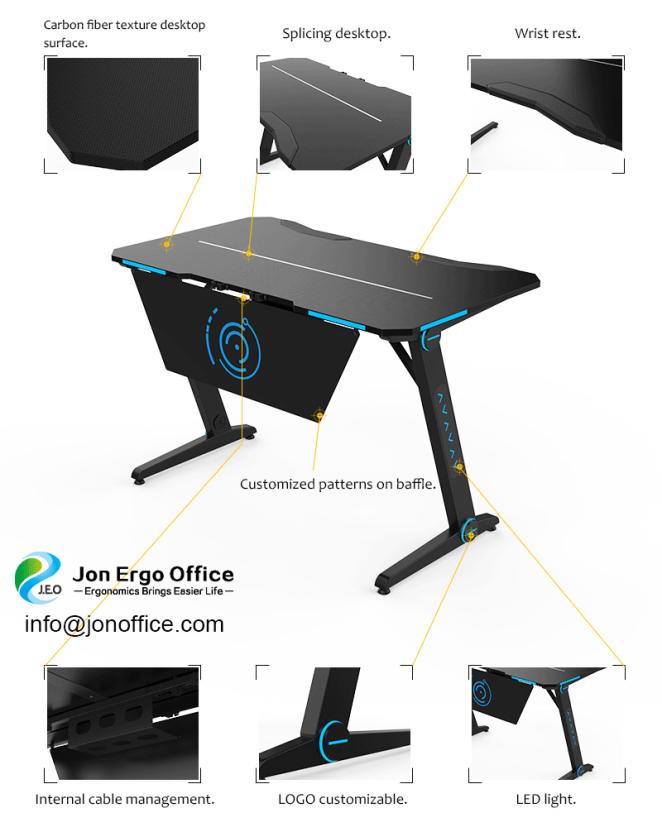 * With hand pads on the table, soft rubber material, relieves elbow pressure
* Spliced table, T-shaped table decoration
* Carbon fiber texture on table surface, PVC film, table thickness 18mm
* Thin bezel, PP material
* The color of the table legs is black and can be customized
* The table leg PVC sticker can be customized
* There are two round decorative covers on the table legs, which can be customized by logos.
* The table board is of the pin type, which can be quickly disassembled (as shown)
* Quick installation and quick release of table legs
* Removable cold-rolled patch panel bracket pendant
* Table legs, decorative cover, blue light on three sides of the table, can be customized monochrome light (requires technical confirmation)
More products: https://www.jeogaming.com/