[lleafill] Dual Hyaluronic Lifting EX Essence Serum 30ml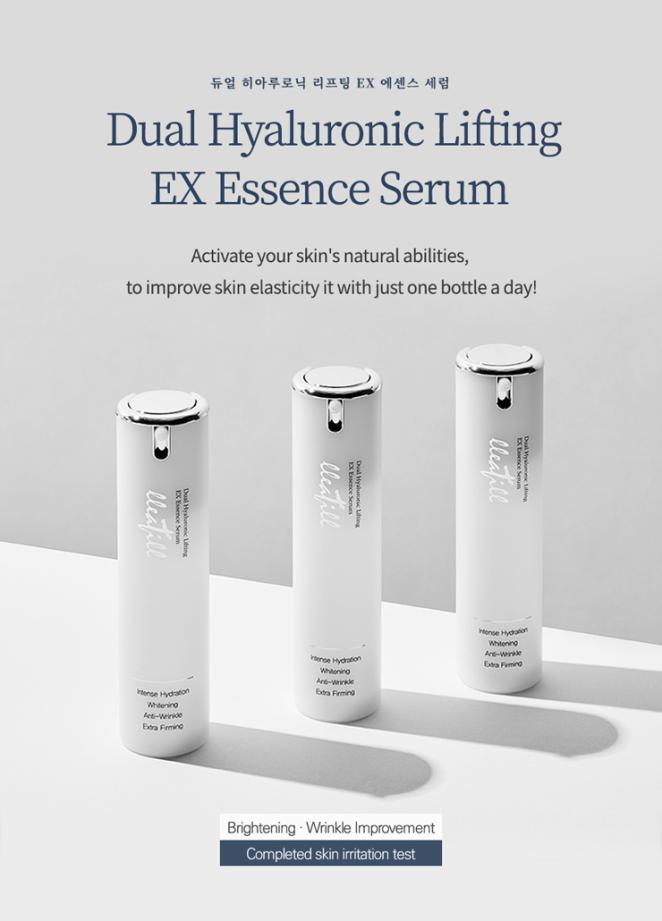 • Apply dermal filler ingredient to cosmetics.(independent technique ingredient: Curing hyaluronic acid®)
• Curing hyaluronic acid®'s forms a moisturizing barrier which results in excellent skin regeneration, collagen generation and constant absorption of functional ingredients and protects the skin from external stimuli, ensuring moist skin throughout the day.
• It contain more than 70% Curing hyaluronic acid®, and a bottle of product contains 21ea Dermal fillers.
• Through 4 weeks of clinical trial, skin whitening, wrinkle improvement, elasticity improvement, and moisturizing effect are confirmed.
• It can be applied safely because it has been tested for irritation of the skin and no artificial scent is used.
• Ultra-low molecular oligo-hyaluronic acid of 1/259 millionth of the pore area is contained so that immediate moisturizing effects can be experienced.
• Certification of MFDS, Whitening and Anti-Wrinkle Dual Functional Cosmetics.
• Use a shut-off Airless container that opens only when you press the product, and use it fresh and clean until the end.

• Key ingredients : Curing Hyalrunic acid® : Anti-wrinkle, hydration, skin regeneration <
• Capacity : 30ml
• Pump the product 1 or 2 times and gently spread it on the skin, then pat to absorb.