Item: WINNSKY RF Circulator 2300MHz-2700MHz Coaxial (Coax) Package N Male Connectors Clockwse 0.3dB Insertion Loss 100W 50ohm Customization Available-Offer from the direct factory!
Model:FCR25.4CNKKK 2300-2700MHz
Frequency range:2300-2700MHz
Direction: Clockwise
Operating Temperature: -40~85 Centigrades
Insertion Loss: 0.3dB
Isolation: 20dB
Return Loss: 20dB
Average Power: 100W
Impedance: 50 ohm
Customization is accepted from WINNSKY, a designer, manufacturer and factory!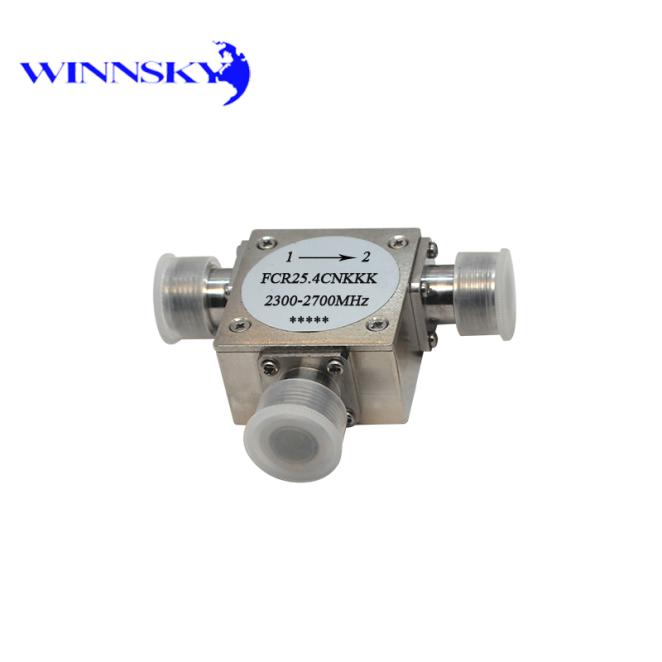 WINNSKY was established in 2007 in HK, with two member units of WINNSKY International (HK) Co.,Ltd and Shenzhen WINNSKY Electronics Co.,Ltd.
Adhering to business philosophy of "integrity first, sustainable development","pioneering and innovative, forge ahead", WINNSKY is dedicated to the branded component R&D, production and marketing.
WINNSKY is specialized in design and manufacturing of RF (Radio Frequency) and microwave passive components including SAW series, RF circulator/isolator/waveguide series, LTCC multilayer series, Dielectric series and millimeter wave series.
SAW series: SAW filters, SAW resonators and SAW multiplexers covering all ranges of bands to meet most client's requiement from all fields.
RF Circulators, Isolators, Waveguides: Drop-in, Coaxial, SMD, Microstrip, Dual-junction series ranging from 30MHz to 100GHz
Dielectric series: Dielectric filters, resonators and diplexers offering a more cost-effective and reliable solution to the clients that are in trouble of cost-down.
Multilayer series: LTCC multilayer filters, resonators, antenna and diplexers, for clients seaking for their opportunity in cellular 4G, 5G communication, GPS navigation and other possible fields.
Microwave module series: Microwave and Millimeter Wave Serial module design and production.
WINNSKY products are widely applied in cellular, 4G LTE, 5G, Bluetooth, GPS and Beidou (BDS) navigation, positioning, time service, wireless headphones, wireless microphone, Electronic Warfare, telemetry, remote control, radar, Surveillance, IOV, NB-IoT.
WINNSKY has built cooperation relationship with giant companies like HUAWEI, ZTE, Sony, Philips, etc. The products and service are also offered to more than 30 countries and regions.
Moreover, WINNSKY continues to improve the network marketing, strives to create a professional R&D, marketing and technical service team, and provides the "professional, branded, efficient, continuous, creative, leading" product and service. WINNSKY is always your trustworthy supplier!