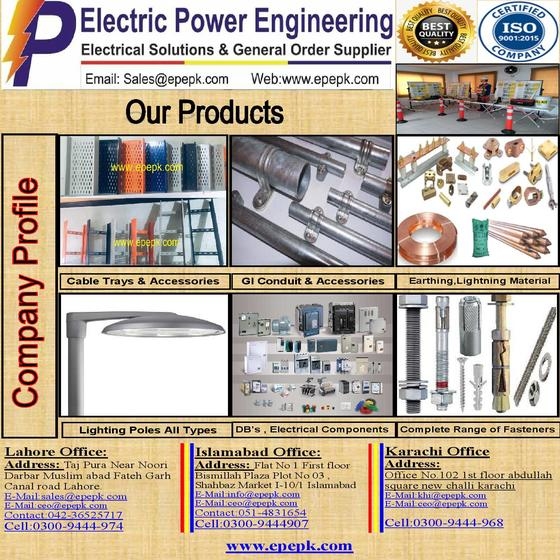 We are pleased to introduce our company Electric Power Engineering
As a manufacturer, as well as general order supplier, registered firm.
We are working on electrical installation and erection jobs.
We are also a manufacturer of all kind of Electrical hardware and Construction material such as all type of cable trays and its all relevant accessories like spring nut uni-struct channel etc, clamps for conduit and cables, cable glands, cable lugs, steel structures, electrical panels all kind of Earthling Material and lighting poles.
Electric Power Engineering is also deal in Low Voltage Components of, Terasaki, Schneider, Ls, Noark, Siemens We deals in all type of low voltage components such as MCCBs, MCBs, Motor Protection Circuit Breakers, Air Circuit Breakers, Magnetic Contactors, Overload Relays, Contactors Relays, All kind of Motors, Soft Starters PLCs Input/ Output Modules, Invertors and all their relevant accessories.

We are committed to fulfilling the requirements of our clients on urgent bases to meet their production and construction needs.
Our Manufacturing, Supplies, and Installation.

Selling Categories
- Electrical Equipment & Supplies >> Connectors & Terminals
- Electrical Equipment & Supplies >> Power Distribution Equipment
- Electrical Equipment & Supplies >> Wiring Accessories
- Hardware >> Clamps
- Hardware >> Fasteners