Compressed Air Water Remover "WELL AIR"
No Filters
No Maintenance
No Power Supply
Water removal efficiency : 99.9%
No CFC gases
As much as 99.9% of water is removed from the inside of air tubes by our own special collision separation technique!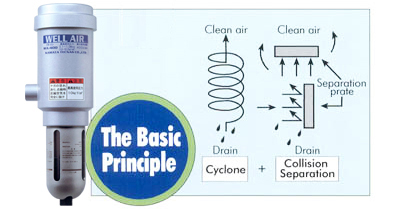 WELL AIR is a revolutionary air compression cleaner that uses absolutely no filters or other components. Our own proprietary collision separation technique(patented) enables WELL AIR to remove as much as 99.9% of the water content from air passing through it. Such stellar performance ensures that the air passing through pipes is always clean, dramatically reducing any rusting or build-up of grease on the pipes' inner walls. This is even possible with WELL AIR's compact size and affordable cost. WELL AIR has arrived with a unique new standard that promises to herald a real Air Revolution and wipe clean the water problems that other compressed air systems still leave behind.
Features
No Filter : High performance always assured, since WELL AIR uses no filters or other consumables.
No Maintenance : Extremely economical, since no money has toi be spent on purchasing and replacing filters and the like which are not used.
No Power Supply : Since no electricity is used, no wiring work is necessary. Installation is very easy.
Compact Design : Easily installed in a wide variety of mechanical systems, due to the WELL AIR's space-saving design.
No CFCs : Environmentally friendly, since no ozone-depleting CFC gases are used.
Flexible AIr Pressure : Accommodates a wide range of air pressure : 1-10.2kgf/cm2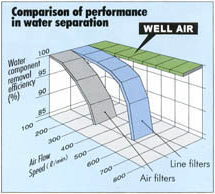 WELL AIR Performance Test
Water removal rate

Water removal rate

50L/min

100L/min

200L/min

300L/min

400L/min

500L/min

600L/min

Pressure

3kgf/cm2

99.9%

99.9%

99.9%

99.9%

99.9%

99.9%

99.9%

5kgf/cm2

7kgf/cm2
Water removal rate

Water removal rate

700L/min

800L/min

900L/min

1000L/min

1100L/min

1200L/min

Pressure

3kgf/cm2

99.9%

99.9%

99.9%

99.9%

99.9%

99.9%

5kgf/cm2

7kgf/cm2
Test method : Air of 100cc in volume containing a mixture of water and ink was injected through the air intake of WELL AIR at a rate of 30cc/min.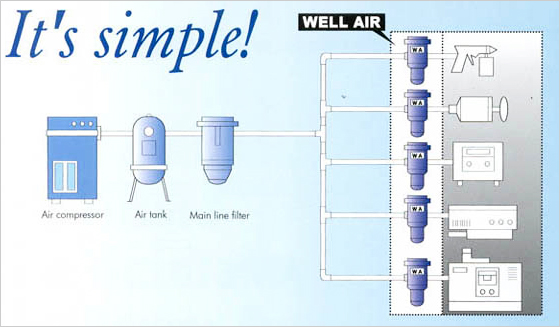 In general, factories that use air compression equipment have air compressors and dryers set up at a distance removed from the work site.
The longer the distance from the dryer to the work site, the more likely condensation will form in the air lines.
Therefore, to solve this problem, air filters are often set up in 2 or 3 stages.
WELL AIR has the highest eater removal efficienty among filtration and drying systems. Simply set up WELL AIR in front of the air compression equipment and use.
WELL AIR brings you cost reduction, and no maintenance.
Efficiency of WELL AIR does not change over time.
ECONOMICAL (No filter + No maintenance = Amazing Economy)
Cost of components : Zero
Labor cost to replace components : Zero
Time required to replace components : Zero
Applications
Industrial machinery, Medical equipment, Packing machines, Food processors, AIr-driven tools, Painting tools, NC machine tools, Precision measuring instruments, AIr blowers.
Specifications
Item

WA-400

WA-1200

Max. flow rate(liters/min)

400

1200

Pressure Drop(Mpa)(kgf/cm2)

0.00~0.05(0.0~0.5)

0.00~0.05(0.0~0.5)

Working pressure range(Mpa)(kgf/cm2)

0.1~1.0(1.0~10.2)

0.1~1.0(1.0~10.2)

Proof pressure(kgf/cm2)

1.5(15.3)

1.5(15.3)

Liquid temperature
(Surrounding temperature)(°C[degrees])

5~65

5~65

Automatic drain(Rc)

AD-32

AD-32

Drain diameter(Rc)

1/4

1/4

Connector diameter(Rc)

3/8

3/7

Weight(kg)

1.25

2.83
Dimensions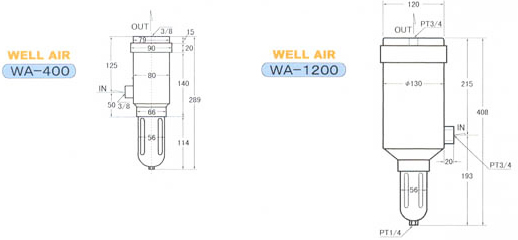 Installation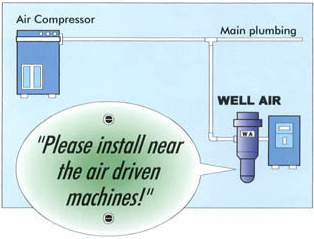 WELL AIR doesn't reduce humidity
Since water condensation occurs when there are temperature differences between the air outside the pipe and air passing through the pipe from the compressor, WELL AIR should be installed near the machines driven by compressed air.
WELL AIR should be installed vertically.