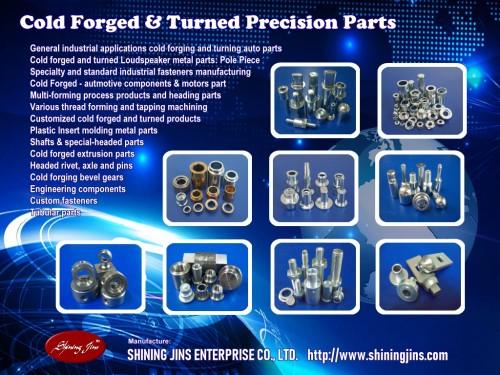 Normal
0
0
2
false
false
false
MicrosoftInternetExplorer4
Shining Jins Enterprise Co., Ltd. engaged in manufacturing and supply precision, high quality cold forged and machined parts to numerous markets in Taiwan.
Our production capacity :-
l General industrial applications forging and cold-forming metal parts
l Seamless Pipe series products and polygon cutting machining process
l Various thread forming and rolling machining
l Automobile and Motorcycle cold forging parts
l Headed rivet, plug bolt and pin for casters
l Shafts & special-headed metal parts
l Custom made cold forged fasteners
l Cold forging loud-Speaker parts
l Forged and Turned metal parts
l Forged Fitting Adapters
l Roller and collar pipe
l Engineering component
l Power Tools parts
SHINING JINS ENTERPRISE CO., LTD.
No.107, Lane 530, Sec. 1, Guoji Road, Taoyuan Dist., Taoyuan City 330, Taiwan.
Tel: +886-3-361 0638 Fax: +886-3-367 7527
Loud-speaker,pole piece,t-yoke,u-yoke,cone,grille,voice coil,spider,dust cap,basket,surround,diaphragm,tags,magnet,frame,
woofer,washer,pole plate,speaker metal parts,bottom,casters rivet,Pins,Washer,Screws,Nuts,Bolts,Castors,
Rivet,forging,forged,CNC,gear,forge,tube,Pipe Nipple,spacer,rivet,washer,Screws,Bolt,axle,pin,forming,tapping,speaker,yoke,flange,Shafts,bits,t-yoke,pot,bush,Fastener,boss,rod,Camshaft Bushing, Plunger Barrel
Sprocket axle,bushes,nut,Furniture fittings,Shoulder Screw,Suspension Bushings,screw fittings,Bushings and Sleeves