A special feature of product
1. Draw latch and hinge made of stainless steel hardly break in high frequency in opening and shuttling.
2. We raise hinge and draw latch dimensions in case of enclosures size elevation. For that reason our enclosure can prevent sinking and secure airtight ability in opening and shuttling.
3. Our enclosure can be used in poor and dangerous industrial circumstances. As we apply shockproof material to our enclosures and make up for structures of our enclosure.

Model and standardized list
SIZE
SIZE
MODEL
Mounting plate
W * L * H
(Unit :mm included cover)
W * L * H
(Unit :inch included cover)
ABS
PC/ABS
PC
gray cover

trans
parency cover

gray cover
trans
parency cover
gray cover
trans
parency cover
steel 1.6mm
plastic 3mm above
200 x 300 x 150
7.87 x 11.81 x 5.91
BC-AGH-203015
BC-ATH-203015
BC-PGH-203015
BC-PTH-203015
BC-CGH-203015
BC-CTH-203015
2030 S
2030 P
200 x 300 x 180
7.87 x 11.81 x 7.09
BC-AGH-203018
BC-ATH-203018
BC-PGH-203018
BC-PTH-203018
BC-CGH-203018
BC-CTH-203018
2030 S
2030 P
225 x 275 x 120
8.86 x 10.83 x 4.72
BC-AGH-222712
BC-ATH-222712
BC-PGH-222712
BC-PTH-222712
BC-CGH-222712
BC-CTH-222712
2227 S
2227 P
250 x 350 x 150
9.84 x 13.78 x 5.91
BC-AGH-253515
BC-ATH-253515
BC-PGH-253515
BC-PTH-253515
BC-CGH-253515
BC-CTH-253515
2535 S
2535 P
275 x 225 x 120
10.83 x 8.86 x 4.72
BC-AGH-272212
BC-ATH-272212
BC-PGH-272212
BC-PTH-272212
BC-CGH-272212
BC-CTH-272212
2227 S
2227 P
300 x 200 x 150
11.81 x 7.87 x 5.91
BC-AGH-302015
BC-ATH-302015
BC-PGH-302015
BC-PTH-302015
BC-CGH-302015
BC-CTH-302015
2030 S
2030 P
300 x 200 x 180
11.81 x 7.87 x 7.09
BC-AGH-302018
BC-ATH-302018
BC-PGH-302018
BC-PTH-302018
BC-CGH-302018
BC-CTH-302018
2030 S
2030 P
300 x 400 x 150
11.81 x 15.75 x 5.91
BC-AGH-304015
BC-ATH-304015
BC-PGH-304015
BC-PTH-304015
BC-CGH-304015
BC-CTH-304015
3040 S
3040 P
300 x 400 x 180
11.81 x 15.75 x 7.09
BC-AGH-304018
BC-ATH-304018
BC-PGH-304018
BC-PTH-304018
BC-CGH-304018
BC-CTH-304018
3040 S
3040 P
330 x 430 x 180
12.99 x 16.93 x 7.09
BC-AGH-334318
BC-ATH-334318
BC-PGH-334318
BC-PTH-334318
BC-CGH-334318
BC-CTH-334318
3343 S
3343 P
350 x 250 x 150
13.78 x 9.84 x 5.91
BC-AGH-352515
BC-ATH-352515
BC-PGH-352515
BC-PTH-352515
BC-CGH-352515
BC-CTH-352515
2535 S
2535 P
350 x 450 x 160
13.78 x 17.72 x 6.30
BC-AGH-354516
BC-ATH-354516
BC-PGH-354516
BC-PTH-354516
BC-CGH-354516
BC-CTH-354516
3545 S
3545 P
350 x 450 x 200
13.78 x 17.72 x 7.87
BC-AGH-354520
BC-ATH-354520
BC-PGH-354520
BC-PTH-354520
BC-CGH-354520
BC-CTH-354520
3545 S
3545 P
400 x 300 x 150
15.75 x 11.8 x 5.91
BC-AGH-403015
BC-ATH-403015
BC-PGH-403015
BC-PTH-403015
BC-CGH-403015
BC-CTH-403015
3040 S
3040 P
400 x 300 x 180
15.75 x 11.8 x 7.09
BC-AGH-403018
BC-ATH-403018
BC-PGH-403018
BC-PTH-403018
BC-CGH-403018
BC-CTH-403018
3040 S
3040 P
400 x 500 x 200
15.75 x 19.69 x 7.87
BC-AGH-405020
BC-ATH-405020
BC-PGH-405020
BC-PTH-405020
BC-CGH-405020
BC-CTH-405020
4050 S
4050 P
400 x 600 x 230
15.75 x 23.62 x 9.06
BC-AGH-406023
BC-ATH-406023
BC-PGH-406023
BC-PTH-406023
BC-CGH-406023
BC-CTH-406023
4060 S
4060 P
430 x 330 x 180
16.93 x 12.99 x 7.09
BC-AGH-433318
BC-ATH-433318
BC-PGH-433318
BC-PTH-433318
BC-CGH-433318
BC-CTH-433318
3343 S
3343 P
450 x 350 x 160
17.72 x 13.78 x 6.30
BC-AGH-453516
BC-ATH-453516
BC-PGH-453516
BC-PTH-453516
BC-CGH-453516
BC-CTH-453516
3545 S
3545 P
450 x 350 x 200
17.72 x 13.78 x 7.87
BC-AGH-453520
BC-ATH-453520
BC-PGH-453520
BC-PTH-453520
BC-CGH-453520
BC-CTH-453520
3545 S
3545 P
500 x 400 x 200
19.6 x 15.75 x 7.87
BC-AGH-504020
BC-ATH-504020
BC-PGH-504020
BC-PTH-504020
BC-CGH-504020
BC-CTH-504020
4050 S
4050 P
600 x 400 x 230
23.62 x 15.75 x 9.06
BC-AGH-604023
BC-ATH-604023
BC-PGH-604023
BC-PTH-604023
BC-CGH-604023
BC-CTH-604023
4060 S
4060 P

BOXCO dimension (allowable error ±1mm)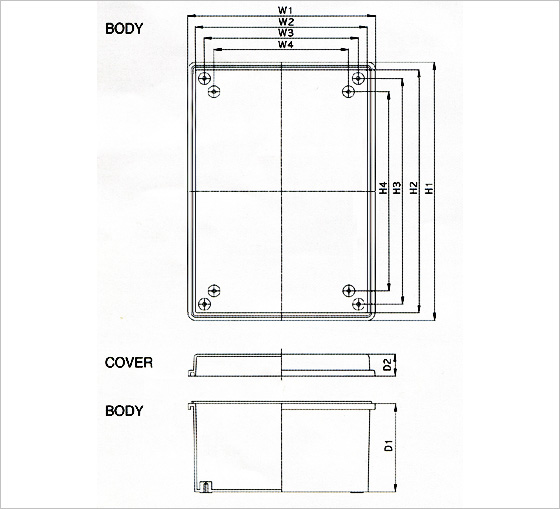 | | | | | | | | | | | | | | |
| --- | --- | --- | --- | --- | --- | --- | --- | --- | --- | --- | --- | --- | --- |
| Size\Division | W1 | W2 | W3 | W4 | H1 | H2 | H3 | H4 | D1 | D2 | D3 | M1 | M2 |
| 200 x 300 x 150 | 200 | 180 | 152 | 129 | 300 | 280 | 252 | 226 | 120 | 30 | 128.5 | 166 | 266 |
| 200 x 300 x 180 | 200 | 180 | 152 | 129 | 300 | 280 | 252 | 226 | 150 | 30 | 158.5 | 166 | 266 |
| 225 x 275 x 120 | 225 | 219 | 204.6 | 183 | 276 | 270 | 234 | 210 | 90 | 30 | 98 | (198) | (245) |
| 250 x 350 x 150 | 250 | 230 | 206 | 180 | 350 | 330 | 306 | 269 | 120 | 30 | 128.5 | 216 | 316 |
| 275 x 225 x 120 | 276 | 270 | 234 | 210 | 225 | 219 | 204 | 183 | 90 | 30 | 98 | (198) | (245) |
| 300 x 200 x 150 | 300 | 280 | 252 | 226 | 200 | 180 | 152 | 129 | 120 | 30 | 128.5 | 166 | 266 |
| 300 x 200 x 180 | 300 | 280 | 252 | 226 | 200 | 180 | 152 | 129 | 150 | 30 | 158.5 | 166 | 266 |
| 300 x 400 x 150 | 300 | 280 | 252 | 230 | 400 | 380 | 352 | 325 | 120 | 30 | 128 | 265 | 365 |
| 300 x 400 x 180 | 300 | 280 | 252 | 230 | 400 | 380 | 352 | 325 | 150 | 30 | 158 | 265 | 365 |
| 330 x 430 x 180 | 330 | 310 | 286 | 250 | 430 | 410 | 386 | 350 | 150 | 30 | 158.5 | 295 | 395 |
| 350 x 250 x 150 | 350 | 330 | 306 | 269 | 250 | 230 | 206 | 180 | 120 | 30 | 128.5 | 216 | 316 |
| 350 x 450 x 160 | 350 | 323 | 298 | 276 | 450 | 423 | 398 | 376 | 130 | 30 | 138 | 306 | 407 |
| 350 x 450 x 200 | 350 | 323 | 298 | 276 | 450 | 423 | 398 | 376 | 170 | 30 | 178 | 306 | 407 |
| 400 x 300 x 150 | 400 | 380 | 352 | 325 | 300 | 280 | 252 | 230 | 120 | 30 | 128 | 265 | 365 |
| 400 x 300 x 180 | 400 | 380 | 352 | 325 | 300 | 280 | 252 | 230 | 150 | 30 | 158 | 265 | 365 |
| 400 x 500 x 200 | 402 | 375 | 352 | 328 | 502 | 475 | 452 | 428 | 170 | 30 | 178 | 358 | 458 |
| 400 x 600 x 230 | 402 | 375 | 352 | 328 | 602 | 575 | 552 | 525 | 200 | 30 | 208 | 358 | 558 |
| 430 x 330 x 180 | 430 | 410 | 386 | 350 | 330 | 310 | 286 | 250 | 150 | 30 | 158.5 | 295 | 395 |
| 450 x 350 x 160 | 450 | 423 | 398 | 376 | 350 | 323 | 298 | 276 | 130 | 30 | 138 | 306 | 407 |
| 450 x 350 x 200 | 450 | 423 | 398 | 376 | 350 | 323 | 298 | 276 | 170 | 30 | 178 | 306 | 407 |
| 500 x 400 x 200 | 502 | 475 | 452 | 428 | 402 | 375 | 352 | 328 | 170 | 30 | 178 | 358 | 458 |
| 600 x 400 x 230 | 602 | 575 | 552 | 525 | 402 | 375 | 352 | 328 | 200 | 30 | 208 | 358 | 558 |

Accessories