Interior Design Vacuum Cleaner Obicuum
MO-ON's wireless vacuum cleaner, "obicuum" is a well-designed vacu um cleaner that can be used pleas antly in our real lives to solve the inconvenience of the vacuum clea ner.

Interior Design vacuum cleaner "obicuum" becomes a lifestyle objet that fits anywhere near you.
You value sensitively home electro nics for your life-style, now here's OBICUUM. The interior design three colours vacuum cleaner becomes an life-style object that fits any where near you.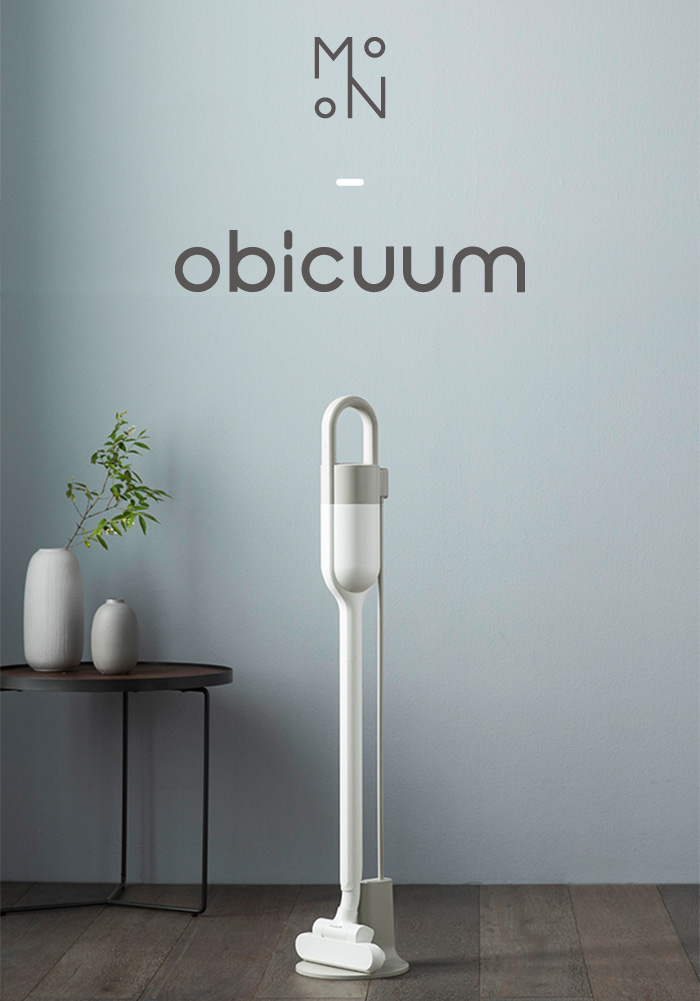 Light Weight
Have you ever been so comfortable and light?
The most reasonable part configuration reduced weight to about 0.9kg. Even with the long nozzle combined, the weight is about 1.3 kg. When cleaning, the stress on the wrist is definitely reduced, so those with weak wrist support are highly satisfied. It is also easy for children to use and helps them develop a habit of cleaning their own rooms. Obicumm are attractive vacumm cleaners with suff icient suction power from the high performance motor even redu cing weight. If you see anything you need to do with your obicu mm, clean it up right away!
Charging
Even good performance and large capacity batteries will not have the best motor power provided they are not fully charged.
Obicumm is 100% charged by simply plug ging it into the living room through self-standing and m agnetic charging which helps the best inhalation and can be very satisfying when used.
Battery & Motor
The battery is an important part of the weight, time and life of the wireless cleaner. The SAMSUNG SDI Li-ion battery cell with 10.95V / 2,150mAh specification supports a stable, constant suction force when cleaned. Using BLDC motors from Japan's NIDEC, which produce precision motors applied to Dyson and Apple products, we deliver performance and durability. It costs 15 times as much as a normal DC motor and 8 times longer life span.
Air Filter
If you were worried about the fine dust from the vacuum cleaner, you don't have to worry about it anymore. Obicumm uses the highest level of HEPA filter (H13 grade) such as normal air purifiers to filter out 99.9% ultra fine dust that may be emitted during cleaning.
Smart Memory
If you press the power button, it would be able to load the latest data that you had used with Smart memory funtion.
Emptying the dust bin
Turn the gray body counterclock wise and Removing dust bin from main unit.
Replacing Battery
Rotate the inner disk of the battery cover And lifting the battery.
Accessories
OBICUUM cleans up Carpet, bedding, and furniture.
Also cleans dust from out-of -hand and anti-scratching h ome electronics easily and efficiently.