JL-X ip testing equipment to do IPX1, IPX2, IPX3 until IPX8 measurement used at LED lighting industry introduction:
JL-X waterproof test system is according to IEC60529, IEC60598, IEC60335 and IEC 60034-5:2000. The JL-X includes the following test grades: IPX1, IPX2, IPX3, IPX4, IPX5, IPX6, IPX7 and IPX8 (Refer to page 51 of IEC60529). It is widely used in the authentication test organization for the products such as electrical & electronic products such as LED luminaires as well as in the relevant quality control department for the waterproof detection of the enclosures protection grades.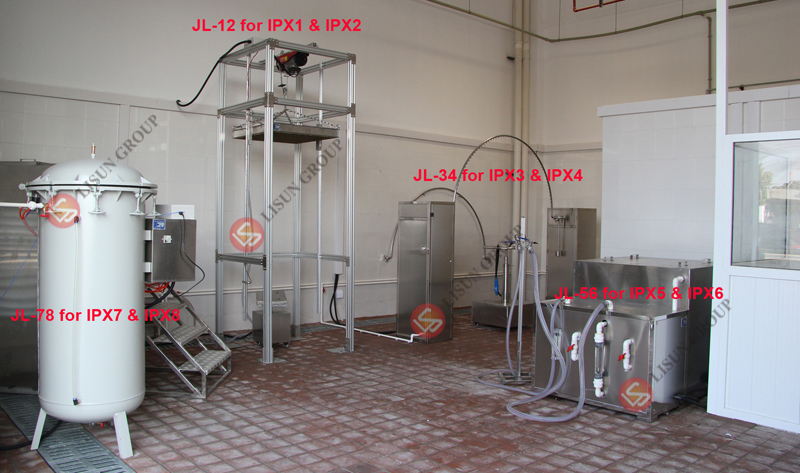 The whole JL-X waterproof test system includes:
• Drip Box (JL-12): The drip box is for IPX1 and IPX2 drip test. The drip box size is 800x800x75mm (LxWxH). The diameter of drip hole is 0.4mm, distant of drip hole is 20mm, sample can be over 150kg
• Swing Pipe Water Spray Test Equipment (JL-34): It is for IPX3 and IPX4 test, the semi-diameter of swing pipe is 1meter. IPX3 is 120degree and IPX4 is 180degree. The diameter of inside swing pipe is 0.4mm. The automatic sample rotating base diameter is 600mm and speed is 1~5rpm which controlled by PLC panel
• Waterproof Jet Test Device (JL-56): With water supply device size is 1000x1000x600mm, the bore diameter is 6.3mm (IPX5) and 12.5mm (IPX6). Diameter of hole is 6.3mm for IPX5 and 12.5mm for IPX6. The water speed is 12.5±0.626L/min for IPX55 and 100±5L/min for IPX6
• Immersion tank Waterproof test Device (JL-7): It is for IPX7 test. The top of the water tank size is 1000x1000x1200mm. The sample testing base is max 120kg. It includes two temperature channels meter and digital display.
• Immersion tank Waterproof test Device (JL-8): It is for IPX8 test. It can measure 0~50m water depth. The water immersion size is diameter is 600mm and height is 1200mm. The compressive stress is 10 atmospheric pressures or design customer request.
Company Information
Lisun Electronics Inc was found by Lisun Group in 2003. We have sales & service offices in Hong Kong and Shanghai, Russia, USA, India and Korea. In 2012, we built a high level products show room & lab center in Shanghai. Lisun Group has set up a new manufactory in China to research and develop the world high-technology CFL & LED Test Instruments. Its quality system has been strict certified by ISO9001 : 2008. The Lisun Group have been authenticated by the third party lab and awarded by CE certificate. As a CIE Supportive Membership, all of the test instruments products by Lisun Group were designed according to CIE Standards.
Lisun Group's products have been sold to more than 50 countries and regions in Europe, America, Australia, Africa and Asia. Its quality was well accepted by many world-famous companies such as TUV, SGS, UL, GE, Philips, Sharp OSRAM, SONY and so on. Lisun Group wins thousand of customers' trust with motto "Right Product, Right Price and Right Service". We will continue presenting higher quality products to our customers in future.
Lisun Group Certifications:

Training for Our Customers: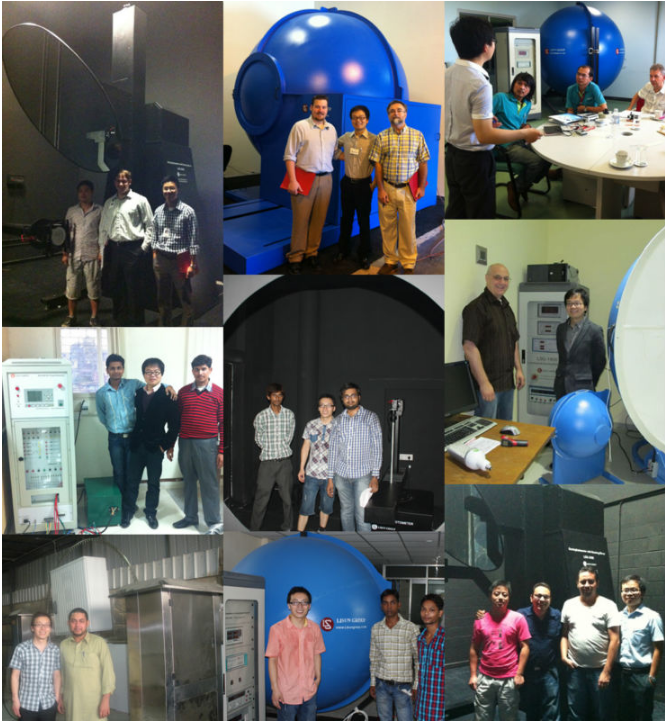 On the HKTDC Hong Kong Lighting Fair: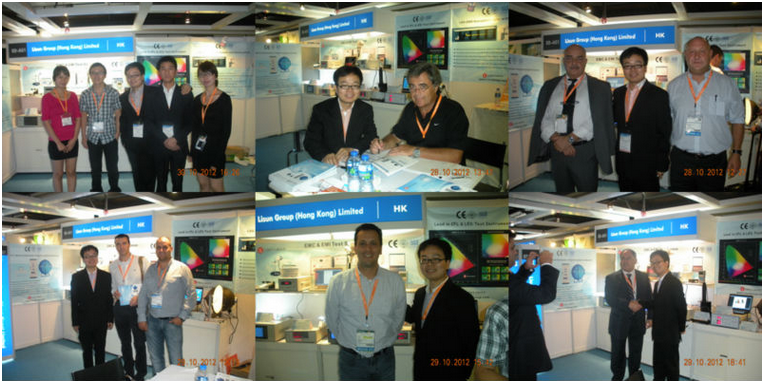 Our Services
IES file test Service:

We will test two lamps for you for free and supply you the following two kinds of test report.

1. LM-79 IES or LDT files report for distribution curve intensity test by Goniophotometer System
2. LM-79 report for lumen, CCT, CRI, Spectrum test by Integrating Sphere & Spectroradiometer System LPCE-2(LMS-9000)