Magderm Hotsense Ion Magnesium Cream(120ml)


"Ideal combination of magnesium and Heat effect"
Heat increases blood flow and makes connective tissue more flexible. It temporarily decreases joint stiffness, pain, and muscle spasms. Heat also helps reduce inflammation and the buildup of fluid in tissues(edema). Heat therapy is used to treat inflammation (including various forms of arthritis), muscle spasm, and injuries such as sprains and strains. Heat may be applied to the body's surface or to deep tissues. Hot packs, infrared heat, paraffin (heated wax), baths, and hydrotherapy (agitated warm water) provide surface heat. Heat may be generated in deep tissues by electric currents (diathermy) or high-frequency sound waves (ultrasound). Heat enhances the transdermal delivery by increasing skin permeability, body fluid circulation, blood vessel wall permeability, rate-limiting membrane permeability, and drug solubility. Diffusion through the skin is a temperature-dependent process, so raising the skin temperature adds thermodynamic drive.
Suggested Use :
Best absorbed through thin skinned areas of the body that are well supplied with capillary blood flow such as neck, upper chest, inner forearm, inner thigh and abdomen.
May be applied several times a day as needed or as directed by your healthcare professional.
Caution
Do not use sensitive areas such as face
Ingredients :
Water, PropyleneGlycol, Magnesium Citrate,stearyl Alcohol, Cetyl Ethylhexanoate, Isohexadecane, Niacinamide, Butylene Glycol, Beeswax, Sorbitan Sesquioleate, C13-14 Isoparaffin, Polyacrylamide, Laureth-7,Glyceryl Stearate, PEG-100 Stearate, Vanillyl Butyl Ether,Sodium Hyaluronate, Xanthan Gum, Zinc Citrate, Microcrystalline Wax, Phenoxyethanol, Disodium EDT, 1,2-Hexanediol, Fragrance
Magderm Hotsense Ion Magnesium Cream is the ideal combination of magnesium and heat effects at the same time. Hotflux(Vanillyl Butyl Ether)component that gives a heat effect is applied. After 10 minutes, it feels warm. After 20 minutes, it feels the best heat. The heat effect lasts more than 30 minutes.
Microcirculation Enhancement:
Increase of Blood Flow
21 volunteers, aged between 21 to 40 years old,vparticipated in a microcirculatory study using Laser Doppler Flowmetry. The local blood cell flux(BCF) was evaluated when different concentrations of HotFlux(Vanillyl Butyl Ether) were applied to the subjects' forearm Results show that HotFlux(Vanillyl Butyl Ether) at 0.3% and 0.5% can exhibit significant increase in BCF as shown from the laser images as well as changes in the blood flow (PU) curve. HotFlux(Vanillyl Butyl Ether) also provides prolonged microcirculation enhancement for over 30 minutes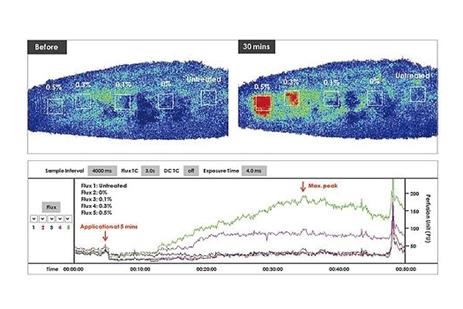 Microcirculation Enhancement:
Analysis of Blood Perfusion and Warming Sensation
A more in-depth analysis and other parameters were explored in the study. HotFlux(Vanillyl Butyl Ether) demonstrated great performance - 30.24% and 66.4% of blood perfusion was increased, respectively, when 0.3% and 0.5% of sample creams were applied Over 90% of the subjects felt warming sensation after treatment. The onset and maximum peak of the warming effect occurred more rapidly when HotFlux(Vanillyl Butyl Ether) was treated at higher concentration The average duration of the perfusion in all volunteers was more than 30 minutes with no reports of pain or discomfort on the treatment sites throughout the process.