The Multi Skin & Scalp care System awakens your cells, and helps to reinvigorate your skin
-The multi-functional UST-350 Smart Magic provides thermal acupressure, galvanic stimuli, and low lavel laser radiation at 660nm wavelength.
-It is designed for personal skin and scalp care by vivification of cells and reinvigorating the skin.
-The main unit enables easy control of all functions with one hand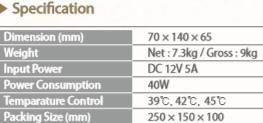 Benefit
-The applied thermal energy can effectively discharge waste products from skin, reinvigorating damaged cells and improving immunity.
-The low level laser diode can improved blood circulation in the dermal layer, rejuvenating the skin.
-The micro electic current facilitates more elastic and wrinkle free skin through conveying active water soluble ingredients into the skin layer.