Torque Generator(Torque Amplifier)
The Torque Generator as a rotary device converts hydraulic energy into mechanical energy. It is usually used to small size vehicles such as golf cart, sweeper, rice-planting machine etc.
The typical system consists of torque generator, reduction gear, and mechanical linkage which is connected to steered wheel and power unit (Pump, Relief Valve, Tank). Relief Valve can also be installed into the torque generator.
Steering system with torque generator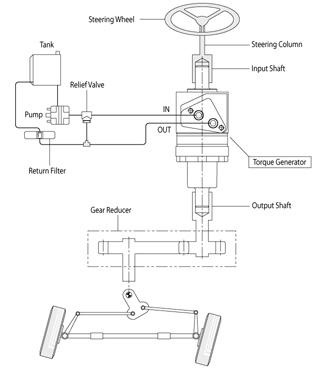 Operation Principle
Circuit diagrams below show the status of open center steering system at a neutral and steering position.
* Neutral Position: Oil from P-port flows to Tank.
* Steering Position: Oil passes the sleeve and spool, gerotor set which generates high/low pressure chamber. The inner rotor can spin and the generated force is forwarded through the power driver to the power shaft. Once steering is stopped, the sleeve and spool go neutral by the centering springs and the oil goes to the Tank.
Wheel controls the direction and wheels are turned proportionally as steering wheel turns. The power steering unit is used normally for industrial vehicles, constructional equipments, marine ships, and servo-type systems that are needed to control directions and positions.
| | |
| --- | --- |
| Neutral Position | Steering Position |
| | |
Power Beyond Type
With three ports, it provides additional hydraulic component down stream sufficient flow when the prioritized steering function is not used. The additional device is connected to the exiting EF ("Excess Flow") Port. Flow used for steering cannot be used for auxiliary function of the additional component. To use the auxiliary function all the time, use the case mounting type(Case Drain Type) instead.
Case Mounting Type
To meet the strict space and cost requirements, a new case mounting type has been developed. This type is used mainly for rice planters. The internal drain and the optimized spool and sleeve enable you to use "Excess Flow" to power another hydraulic components using only one pump.
| | |
| --- | --- |
| Hydraulic Circuit(Power Beyond) | Hydaulic Circuit(Case Mounting) |
| | |
Specifications
System : OPen Center, Load Reaction
Max. System Pressure: 70kgf/cm2(6.9MPa)
Rated Flow: 9.5~15.1L/min
Displacement : 80, 100cm3/rev
Max. Output Torque : 6.0~8.1kgf.m(59~79Nm)
Max. Back Pressure: 20kgf/cm2(2.0MPa)
Steering Input Torque: 0.2kgf.m(2.0Nm)
Max. Acceptable Input Torque : 12kgf.m(118Nm)
System Operation Temperature : 95°C
Recommended Filtration : Nominal 10μm
Standard Type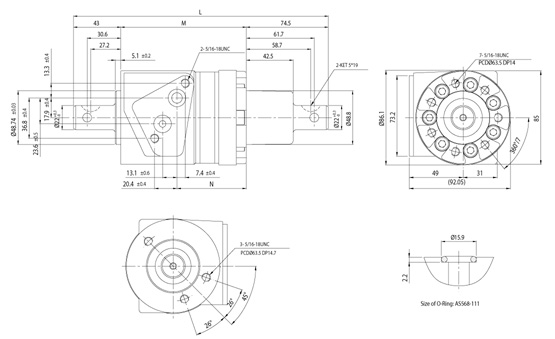 | | | | |
| --- | --- | --- | --- |
| Displacement(cm3/rev) | Length L(mm) | Length M(mm) | Length B(mm) |
| 80 | 239.2 | 121.7 | 60.7 |
| 100 | 242.0 | 124.5 | 63.5 |
Case Mounting Type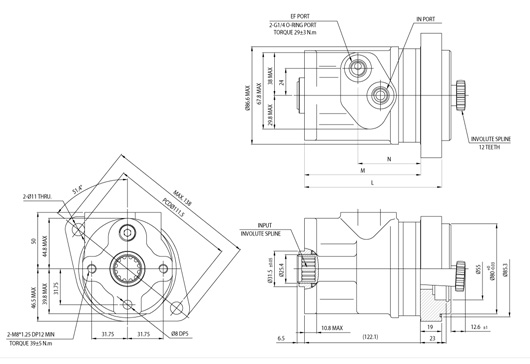 Code and specification