Why you need Touch wing?
Source saving
Economic smart board that you can use the existing TV you have
Cost effectiveness
1/10 of the cost for the installation of an interactive white board
High performance S/W
Excellent software superior to the one for an interactive white board is applied
Recording
Instant video recording of all classes
Easy screen mode change
Easy to change to presentation mode, window mode or writing mode by touch
Non-limited Touching tool
Touch by utilizing various tools
TV monitor protection
Protection of TV LCD screen by configuring it with tempered glass
Diverse application
Applicable to various facilities (kindergartens, schools, companies, etc.)
Touch-Wing (Touch screen)
Touch Wing is educational touch screen equipment configured on the front side of a TV screen to make it work like a smartphone.
This product has a distinguished feature to be attached to all kinds of flat TV's and is suitable to use in the environments that an interactive white board is too expensive to buy and that a user wants to utilize the existing TV.
In addition, the existing TV will be obsolete leading to a waste of resources, if a new interactive white board is purchased additionally when an existing TV is available, Therefore, it is also very important to find a way to utilize the existing TV and save total cost. Touch Wing can be used in various places such as the spots of education, the conference rooms of company, etc.
It also allows teachers to develop various forms of teaching models by configuring the whole solution program with it using its functions not just simple touching function but also writing, underlining, coloring, drawing, video shooting and recording, video recording of class activities, etc.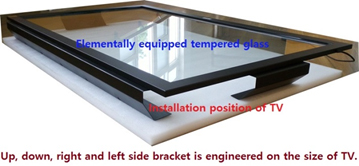 Video clip link
Specification
Item

Detail

MSK-T5042

MSK-TJU140

Touch Tools

Fingers(Fingers, touch rods, pointers, pens, etc.)

Application Scope

127cm

140cm

Sensor Type

IR type

Response Time

Touch 11.84ms±10%
Drawing 18.52ms±10%

Touch 11ms±10%
Drawing 12ms±10%

Cell Intervals

5.7mm±0.2mm

5.7mm±0.2mm

Cell Number

194(H) x 109(V)

212(H) x 119(V)

Touch Size to be Recognized

Touch : 7mm / Drawing : 8mm

Color

Black powder coating

Active Touch Distance(mm)

1092(H) x 608(V)

1209.6(H) x 680.4(V)

Product Size(mm)

1203(W) x 713(D) x 14.5(H)

1300(W) x 770(D) x 14.5(H)

Interface

USB 2.0 Full Speed

Weight(kg)

13.4kg

15kg

DC Power Supply
(DC Adapter)

PA-1041-0

None

Rated Power/Operating Voltage

AC 100-240V, 50/60Hz
1.2A(Output DC12V, 3.33A)

Operating Voltage
4.75~5.25V (Via USB)

Power Consumption

2.9W(Current : 248mA) or lower

Max. 380mA

Reference - Public education facility