Q2687 WCDMA HSDPA 3G 8 PORT MODEM POOL
ADVANTAGES
Built to fulfill many needs with below criteria:
Sending / Receiving messages
Broadcasting messages
Cost Saving purposes
Enterprise level services
Software SMS PREMIUM built-in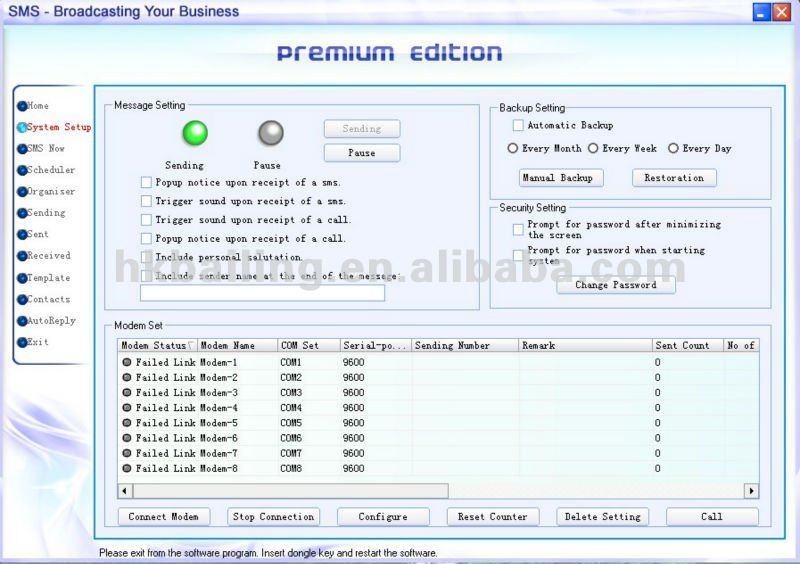 32 single-channel equipments work at the same time
Can insert 32 SIM cards (big or small)
Connection with the computer through a data line can be integrated wit Serial 16
Each channel with separate power switch
Each individual module can be demolished
Industrial chassis, elegant shell
Brief introduction
The device built-in 32 wireless modules can b inserted eight SIM cards, can use eight cards to send text messages, send speed as 32 time as a single channel modem. It uses the development of WAVECOM module, 220V power supply, can be long time stability, generous luxury housing.
industrial-grade chips, to ensure stable operation
switch independence, support for the size of SIM card
ports support hot-swapping.
a separate module can be demolished.
power lines and data lies are only one of the more simple.
the size of a small, elegant, accounting for a smaller space (the size of the computer keyboard is only about half the size), especially suitable for the use of multiple macines at the same time.
Send maximum 38400 SMS or 38400 MMS per hour
FEATURES
Multiple Send/Receive messages at the same time
Broad Coverage Area
Wide Broadcasting in speedy time
Portable device
Convenience
Accurate
Economic, nothing messages left, avoid human error
Efficient & Effective
Multi-terminal