Our next-generation-compact wind power generator "WINWIN3000" utilizes unique technological features which enable it to overcome one of the most critical problems in traditional wind power generators: the inconsistency in the generator's ability to supply stable amounts of electricity in variable wind speeds.
Our product minimizes the effect of wind volumes on the generator's ability to produce electricity, giving it a tremendous advantage over traditional wind power generators. However, our product's capacity to compete goes beyond the market for wind power.
The use of aluminum components suitable for installation on the coast and islands.
Easy operation and convenient maintenance.
FRP material of the blade, and testing and certified in Japan.
The brake control system(Ogula Clutch)
Characteristics of "WINWIN3000"
1. Weakness of Wind Power Generators.
The weakness of wind power generators is that the generated electrical power voltage changes intensely depending on wind strength and wind existence / nonexistence.
2. Countermeasure of Weak Wind / Strong Wind.
Another weakness of the wind power generation is that it's hard to start up the windmill by weak wind, and that the windmill rotates excessively by strong wind so as to easily break down (extremeness).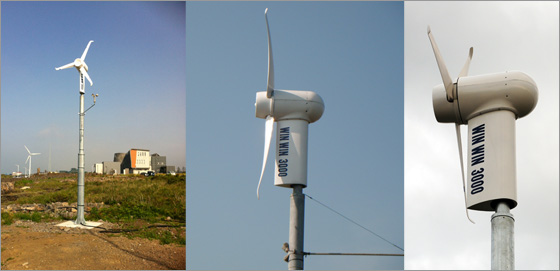 Patents
Korea Accreditation System WT-SES-1-0009
Patent Registration 10-1391256
Design Registration 30-0700189
Generator Specifications
| | |
| --- | --- |
| Model | WINWIN 3000 |
| Rated Outptu | 3,000W |
| Rotor Diameter | 3,180mm |
| Start-up Speed | 1.5m/s |
| Cut-in Speed | 2.5m/s |
| Rated Wind Speed(Stop) | 12m/s(17m/s) |
| Endurance Wind Speed | 60m/s |
| Weight(kg) | 120kg |
| Voltage | 220V/60Hz |
| Rotor airfoil | Horizontal axis type Down-Wind |
| Generator type | Synchronous. Gearless |
| Work temperature | -40~+50°C |
| Hub Heigh | 10.5M |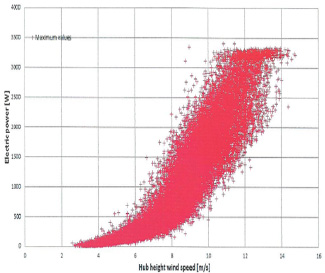 Specifications
Excellent Safeness
The "Electronic Control Brake" stop the device on over 17m/s high wind rises
(Like Hurricane, Gust etc.)
*Japanese Products OKURA Disc Brake installed
RUN Despite Breeze
Wind generator with High performance start-up available at 1.5m/s breeze
Highly Corrosive Parts Used
All parts are resistant to salinity with aluminum and SUS material
Easy Maintenance
Needless supplement of oil because Oilless Bearing installed
* Using Permanent Magnet Coreless Generator (AFPM)
Development of Innovative Components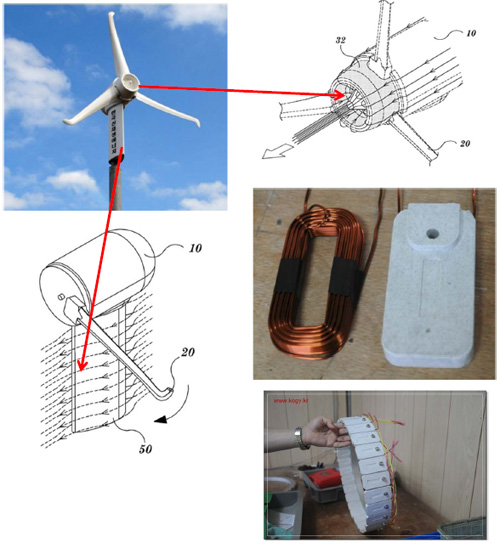 Wind Director
Maximizing wind energy with fast Yawing function on gust and irregular winds
* Substitution for tail wing and compensating defect of tail wing
Noise Reducer
Noise-reducing system established considering occurrence of noise when person go near under the device.
Concentrate wind to make strong torque can be caught to blade.
* Useful for an advertising board
Coil Coating
Epoxy coating to prevent dust and current loss at generator coil
Advantage of Product
Auto Control at Rapid Wind Change(Like Gust, Typhoon)
Components with resistant to salinity for equipped at Waterfront. Island Area
Minimize maintenance part for customer…s convenient using
Blades with proven safe through Japanese Industrial Laboratory / Japanese OEM
When operator reached at 600RPM incase gust or typhoon rises, Brake operates with 1 min intervals.
After 3 hours later then, detector function operates.
Lower wind speeds and quieter operation due to the advances in blade design