IDbabi safety helmet, specifically for kids outdoor sports!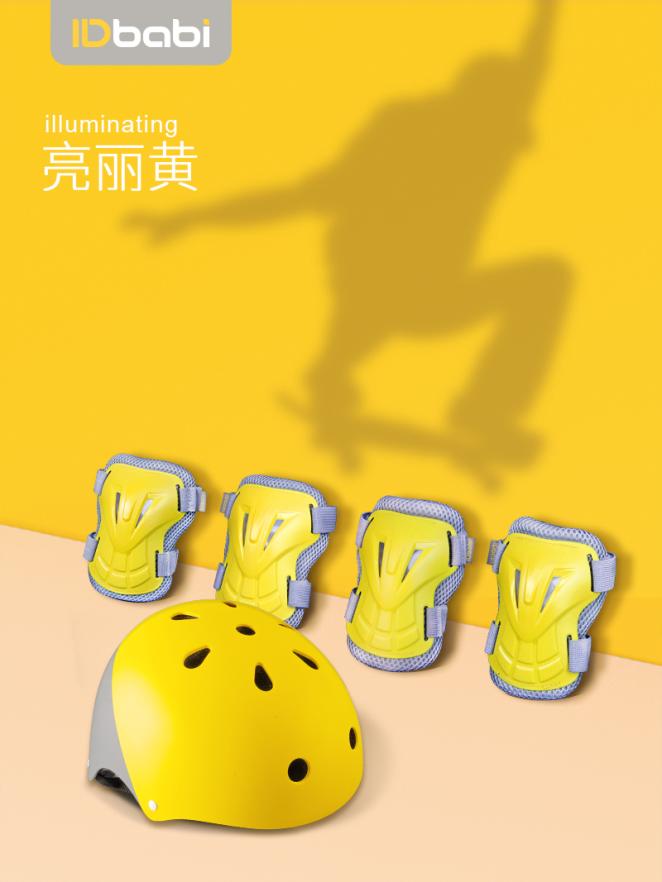 IDbabi professional children's sports helmets are designed for the safety and protection of children in outdoor sports. The helmet is manufactured by a major manufacturer and has passed the CE and CPSC quality certification in Europe and the USA. It has passed the 10m drop test and can withstand 250N physical impact without breaking. Adjustable head circumference, suitable for children aged 2-10 years. With 11 ventilation holes, it is both ventilated and comfortable, which reduces the feeling of stuffiness when wearing it. Thick ABS engineering plastic shell + Expandable Polystyrene liner + thick sealed double layer of foam lining for triple wrap cushioning protection. The elastic band also features a jaw guard, a tightening strap and a precision buckle for a more comfortable fit and less chance of loosening.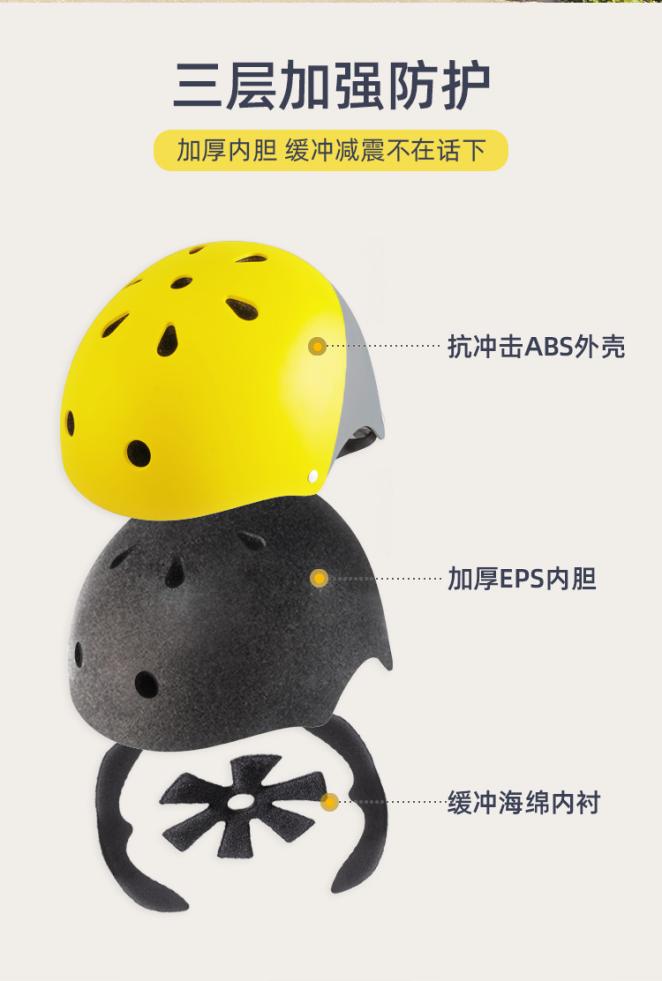 Children are at high risk of falling when playing roller skating, cycling, scooters, skateboards and electric balance bikes. It is important to have a good helmet and protective gear for your child beforehand. The IDbabi helmet and protective gear set offers multiple levels of protection for children, allowing them to take on challenging activities and giving parents peace of mind. The IDbabi helmet is double adjustable to suit the child's head circumference and face length. A set of helmets and protective gear to protect your child throughout their childhood from 2 to 12 years old, suitable for all sliding and riding sports.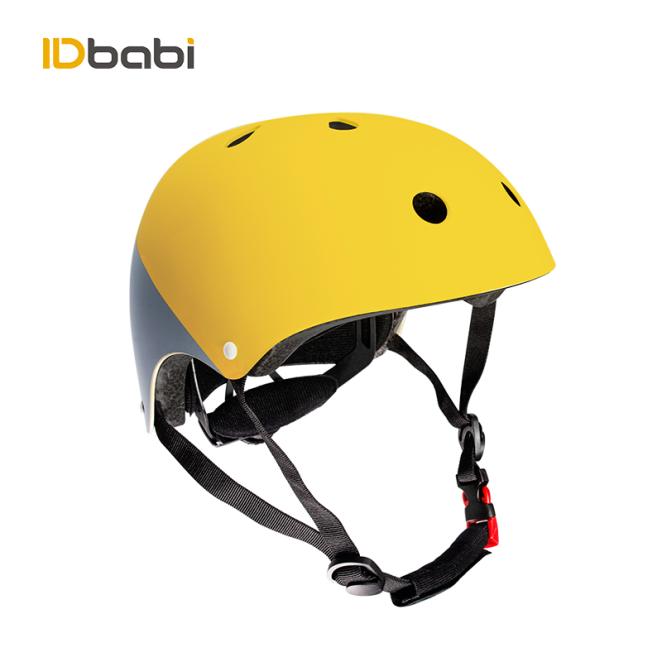 Six-piece set of knee pads, elbow pads and guards, which are made up of a PP shell sewn together with sponge textile padding. The outer shell adds reflective warning effect (important safety measure). The elastic band on the knee and elbow pads has been optimized to avoid the disadvantages of other brands of knee and elbow pads, for example, which will pinch the skin when the wearer bends the knee or elbow, limiting the range of movement and restricting the arms and legs. The IDbabi knee and elbow pads have an elasticated harness that runs directly through the shell, eliminating the plastic adjustment loops in favor of full range Velcro, allowing for a wider range of adjustment and a more comfortable fit and flexibility of movement.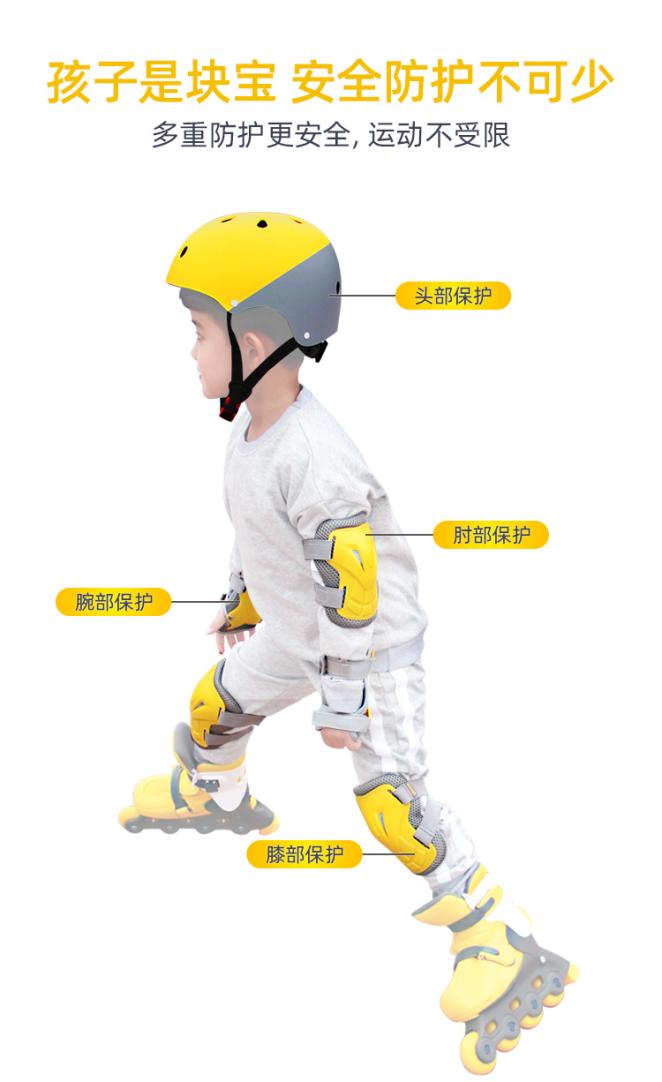 Designed by the German Red Dot Award-winning designer, the product features the 2021 Pantone Color: Illuminating+Ultimate Gray. The product adopts the baking paint surface treatment process with frosting feel. A simple and stylish look that wears with sporty energy and and instantly makes your child an mini athlete. Both boys and girls love it, it's so cool!
Age: 2+; Generally 2-12 years old, suitable for both boys and girls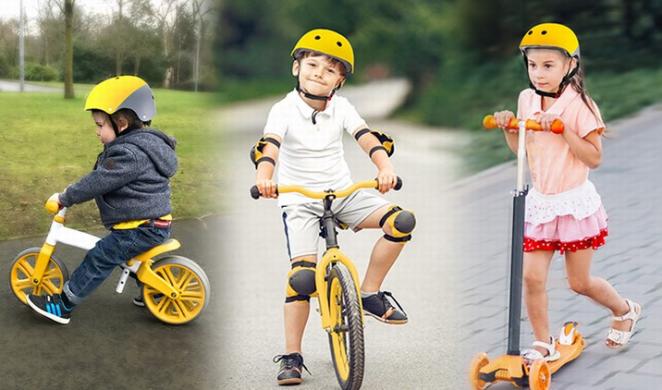 Usage Scenarios:inline skate,roller skates,kick scooter,skateboard,Wiggleboard,ripstik board,scissor scooter /frog scooter,balance bike/ kids strider,kids bike,self-balancing hoverboard,Toy wiggle car,yo-yo Scooter,hockey,baseball,all kind of sliding/riding sports
Design highlights: 1. 2021 Pantone Color: Illuminating+Ultimate Gray. The helmet is designed without wind shields, offering the advantage of more breathability and a wider visual range. Double adjustable size, easy to operate by knob, adaptable to different size head circumference. 3. 11 ventilation holes, strong and lightweight. 4. Protective jaw, tightening straps and precision buckles. 5. Six-piece set of knee pads, elbow pads and wrist pads. The shell has a reflective warning and the harness is soft and without adjustment loops for a comfortable, dynamic and dexterous fit.
Helmet material: ABS engineering plastic shell, Expandable Polystyrene (EPS) liner,sealed double layer sponge liner, nylon accessories, stainless steel rivet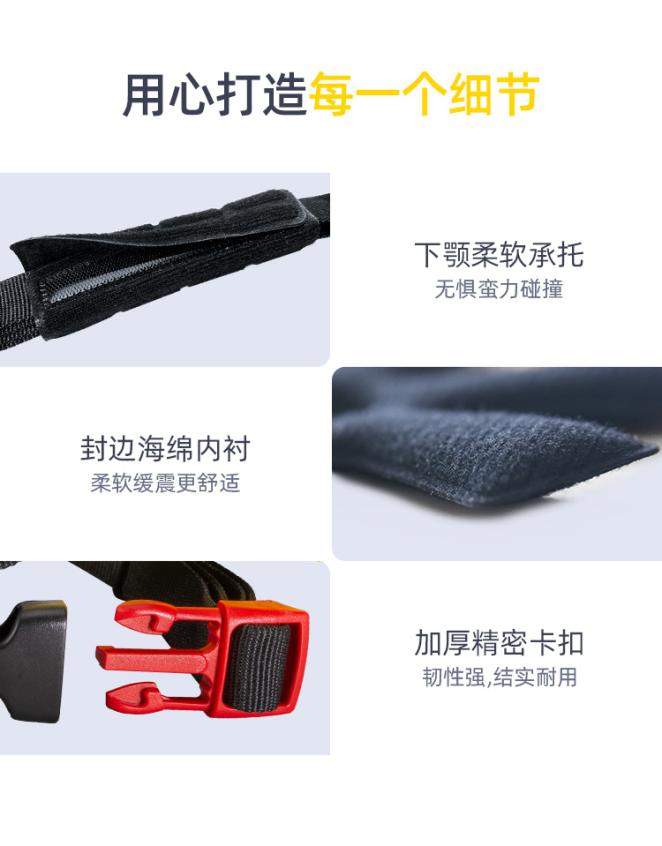 Knee/elbow/wrist pads: PP plastic shell, sponge textile padding, soft Velcro adjustment straps.
Quality certification: CE and CPSC, passed 10m drop test, 250N physical impact test.
Specification size: 24×21×15.5cm
Helmet Net weight: 320G Packing size: 25×21.5×18.5cm,Hard Kraft carton
Carton size: 52×44.5×56cm,12 boxes/ctn