Brief Introduction:
CHK301MT - MIFARE DESFire cards reader writer module, is operatable for kinds of different contactless IC/CPU cards, which compatible with ISO/IEC 14443 Type A, Type B, and ISO/IEC 15693, ISO18092 standard.
Specially, this module supports DES, 3DES and AES encryption algorithm, and with more opened operation interfaces for MIFARE DESFire series cards, such as to create/delete/format Application ID of the card's PICC level, and define different kinds of files under application level, etc. These functions can be realized directly with CHIKEK's friendly SDK kits.
Thanks to the features of MIFARE DESFire EV1 cards made by NXP company, this model of embeddable module offers higher safety, faster data transaction and more widely applications.
Key Features:
3.3V ~5V power supply, UART-TTL interface;

Tiny size, single-face laying components with stamp-hole

Compliant with ISO14443A/B, ISO15693, ISO18092 Standard

Option version of ISO7816 T=1 standard;

Read/Write or Read UID only working mode

Support to create standard Data file, Back-up Data file, Value file, Linear Record file, Cyclic Record file and Transaction MAC file)

Support KEY Authenticate,get KEY Version, change KEY, etc;

Available to operate DESFire PICC level, Application ID create/delete/format, etc

External LED and BUZ available (external driver circuit needed)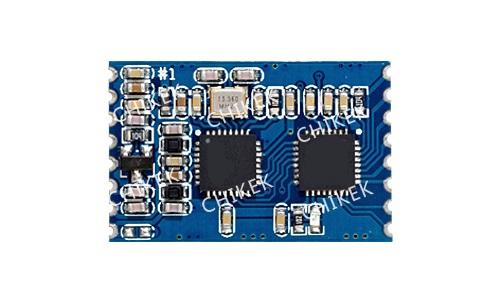 Technical Parameters:
| | |
| --- | --- |
| Electrical Specification | |
| Power supply | DC 3.3V ~ 5V |
| Power consumption | Max current:<50mA, Standby current: <1 mA |
| Operation frequency | 13.56MHz |
| Baudrate | 9600~115200 bit/s ( default 9600bps) |
| Interface | UART TTL |
| Antenna | External, stamp hole |
| Reading range | Up to 4 cm ~ 10 cm( depends on antenna and cards) |
| | |
| --- | --- |
| Mechanical Specifications | |
| Dimension | 25mmx16.5mmx2.8mm (LxWxH) |
| Weight | 3g |
| Material | FR-4, Blue |
| Model | CHK301MT |
| | |
| --- | --- |
| Environmental Conditions | |
| Operation temperature | -20°C~ +80°C |
| Storage temperature | -40°C~ +85°C |
| Humidity | Relative humidity 5%~95% |
Supported Standard/ Tags

ISO14443 A

Read/write:
MIFARE Classic 1K /4K, MIFARE Ultralight, MIFARE Ultralight C, MIFARE DESFire EV1, MIFARE Smart MX, MIFARE Plus S / X, MIFARE Pro X, NTAG 21x

Read UID only:
Read UID only of all other ISO14443A RFID tags

ISO14443 B

SRI4K, SRIX4K, AT88RF020, 66CL160S, SR176

ISO15693

EM4135, EM4043, EM4x33, EM4x35, I-Code SLI / SLIX, M24LR16/64, TI Tag-it HF-I, SRF55Vxx (my-d vicinity)
SDK information

Demo software

WINDOWS, C# language

Files

Comprotocol document
API document
User Manual
Demo.exe
Note:
Other functions and details to be continued and upgrade