2.4G Transceiver Module with nRF24L01P RF chip & RFX2401C Power Amplifier
DL-24NPA is a 2.4GHz, 100mW, high speed (the highest air rate can reach 2Mbps), high stability, industrial-grade wireless transceiver integrated data transmission module. The module uses NORDIC original nRF24L01P radio frequency chip and RFX2401C power amplifier chip, built-in LNA, receiving sensitivity increased by 10dBm, working in the 2.4GHz~2.5GHz ISM band.
The output interface of the module is IPEX, which is ultra-small in size and convenient to be embedded in the product. The module has a transmission power of 20dBm, the spectrum characteristics are very good, the harmonics are small and the crosstalk between channels is small, the high-frequency materials are original from Murata, and the crystals use high-precision low-temperature drift industrial-grade devices.
Applications
● Long-distance 2.4G data transmission network
● 2.4G answering device, auction device
● Star network data acquisition system
● Shooting target reporting system, scoring system
● Remote control handle for aeromodel and car model
● 2.4G remote control, empty mouse, somatosensory game console
● BLDC fan, ceiling fan controller
● LED neon string control system
● Smart home system, security alarm, outdoor billboard control system
Features
● Frequency range: 2.4GHz ~ 2.525GHz (adjustable 1MHz step)
● Sensitivity up to -94dBm
● Maximum output power: 20 dBm
● Low receiving current: 23 mA
● Sleep current <250 mA
● Data transmission rate: 250k-2Mpbs
● FSK, GFSK modulation mode
● Built-in antenna interface: IPEX seat, ANT half-hole immersion gold interface (can connect external antenna)
● Does not support RSSI signal strength indication, only supports simple packet loss statistics
● 256-byte FIFO and CRC frequency hopping function
● Built-in temperature sensor and low battery indicator
Technical Parameter
| | | | |
| --- | --- | --- | --- |
| No | Parameter | Parameter value | Summary |
| 1 | Chip | nRF24L01P | Nordic |
| 2 | Size | 13*19mm | Includes IPEX connector |
| 3 | Weight | 0.8g | Includes IPEX connector |
| 4 | Frequency | 2.5GHz~2.525GHz | Adjustable 1MHz step |
| 5 | Production Process | Lead-free environmental protection process | Lead-free and halogen-free, ESD anti-static |
| 6 | Interface method | 1*8*1.27mm | The side of the stamp, immersion gold half hole craft |
| 7 | Supply voltage | 1.8~3.6V DC | Voltages higher than 3.6V will cause permanent damage to the module |
| 8 | Communication level | 0.7VCC~5V | VCC Refers to the module supply voltage |
| 9 | Distance | 2000m | Tested in a clear and open environment with maximum power above 2m and 250k air speed |
| 10 | Transmit power | 20dBm maximum | 100mW output power |
| 11 | Air Transfer Rate | 250k~2Mbps | 3 levels adjustable (250kpbs, 1Mbps, 2Mpbs) |
| 12 | Shutdown current | 1.0uA | nRF24l01P is set to power down, CE low |
| 13 | Emission current | 150mA 0dBm | Power supply capacity must be greater than 250mA |
| 14 | Receive current | 23mA | CE=1 |
| 15 | Communication Interface | SPI | Maximum speed up to 10Mbps |
| 16 | Launch length | Single data packet 1~32 bytes | Level 3 FIFO |
| 17 | Receive length | Single data packet 1~32 bytes | Level 3 FIFO |
| 18 | RSSI support | not support | Only supports simple packet loss statistics |
| 19 | Antenna | IPEX & ANT half hole interface | 50Ω characteristic impedance |
Pin Definitions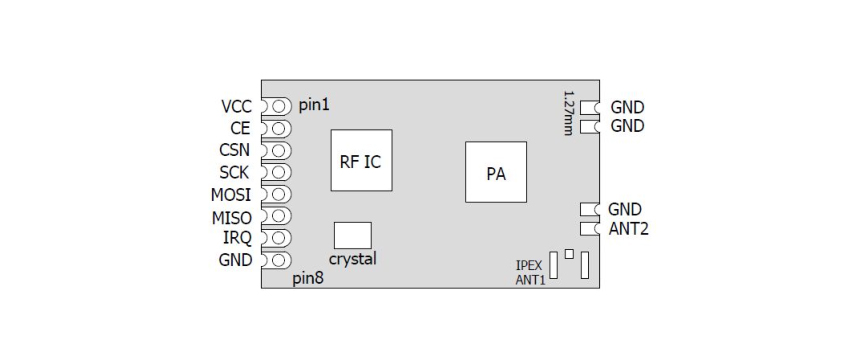 Pin No

Pin's Name

Description

1

VCC

Positive power supply, 1.9~3.6V

2

CE

Work mode selection, TX or RX mode selection

3

CSN

CSN=0 valid, SPI chip select enable

4

SCLK

SPI clock

5

MOSI

SPI data input, MOSI

6

MISO

SPI data output, MISO

7

IRQ

Interrupt request port

8

GND

Module grounding,Reliably grounded and close to the system filter capacitor

ANT1 and ANT2 are compatible interfaces, which are selected through coupling capacitors and use different antenna types