2019 Newest Fuel Cell Sensor Rechargeable Alcohol Tester from FDA Verified Manufacturer
Products Description
Fuel-Cell Professional Breathalyzer
1. Police-grade fuel cell sensor technology: high sensitivity and quick response
2. Sensor Accuracy +/- 0.005% bac or +/-0.050 ‰ bac or +/-0.025 mg/l
3. Dispaly: 4 digital LCD backlit display
4. Portable and fashion design with zinc alloy material.
5. Testing records: 10 recent records
6 .Battery saved design with micro USB charging method, low voltage indication
7. Smart MCU control
8. Applicable to drivers and home use

Features
The breathalyzer is extremely easy to use, it comes with a rechargeable lithium battery (3.7V) that you can use with any USB adapter and comes with a micro USB charging cable

Test yourself, your family and friends
This alcohol tester is equipped with a soft carrying case and 5 replacement. Unique front-facing mouthpiece. The breathalyzer is perfect for testing yourself as well as your friends and family. Take it with you wherever you go and responsible for their own safety and also to reassure their families safety
Main difference between fuel cell alcohol tester and semi-conductor alcohol tester

1.The fuel cell sensor material is a chemically-reactive fuel cell type (the sensor sheet reacts with the alcohol molecule to generate a weak current signal), and is the same as the sensor sheet of the high-precision alcohol tester used by the traffic police.
Fuel cell sensor processing circuit is complex, but the instrument sensitivity, accuracy, feature recovery speed(characteristic zero speed), stability (characteristic drift), long life, test results close to police standards.
2.The sensing material of the semi-conductor sensor is a physical semi-conductor oxide SnO2 (inductive alcohol
molecule, whose internal resistance value changes), and the overall sensitivity, accuracy, stability (characteristic drift) is smaller than that of electrochemistry, but at a low concentration When the concentration is less than 0.25mg/L.
the accuracy is equivalent to that of electrochemistry, which can meet the requirements of the civil grade standard.
The semi-conductor processing circuit is relatively simple and small in volume. Compared with electrochemistry, the semi-conductor sensor has a short life. But the priceis low, easy to carry, widely used in private civilian grade.
Details Images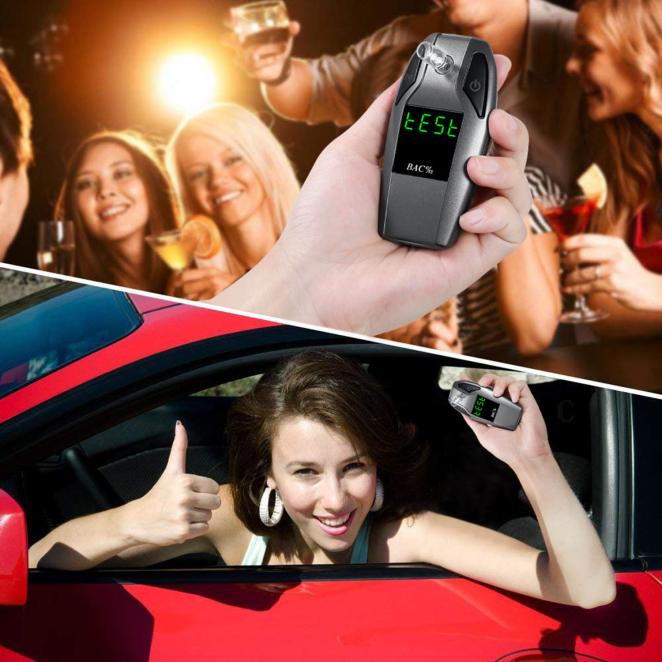 Customers Reviews
Company Profile
Shenzhen EEK Electronic Co., Limited established in 2006, we develop and manufacture the alcohol tester with our high
professionality.
We have got the FDA in 2017, and all our models are with CE,ROHS,FCC certifications as well as the testing reports.
12 patents on designs and functions are on hand now, and OEM and ODM services are available!
We also have rich experience in exporting the various breath alcohol testers to overseas markets as US, Europe, South Africa,Southeast Asia and the Middle East;
Contact us if you are interested in our products or you have an idea on developing your own design, our service will meet your satisfactions;
Certifications
FAQ
1Q:Will this show results after blowing?
A:Yes......

2Q:Does this breathalyzer measure ketones for the ketogenic diet?
A: No, it can not, it's just an alcohol tester

3Q:Does alcohol tester contain instructions?
A:Yes, you can refer to the instructions to operate

4Q:How often do I need to wait after drinking?
AWait 20 minutes for testing

5Q:Does it comes with mouthpieces?
A:Yes, it comes with five mouthpieces.

6Q:Can this breathalyzer be used for liqueurs?
A:Yes

7Q:Will this alcohol tester measure 20-30% alochohol with reasonable accuracy?
A: It should read fairly accurate to various levels of alcohol with no problem.
For more product details, you can check the following link for reference.
https://www.alibaba.com/product-detail/2019-Newest-Fuel-Cell-Sensor-Rechargeable_60825957642.html?spm=a2700.icbuShop.41413.15.361b50da7pYIY0
Lara Liu
Shenzhen EEK Electronic Co., Limited
Tel: 86-755-82592643
Mobile/Whatsapp: 86-15814407556
Skype: lara1223sky
Email: sales03(@)szeek.net
Add: Room 608 Floor 6 Building D Zhihui Chuangxin Centre Qianjin Rd2 Bao'an District, Shenzhen