Dyna GCOL-E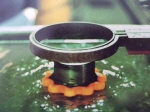 Specification
| | |
| --- | --- |
| Test Item | Specification |
| Apperance in water | Light Amber Fluid |
| ...Specific Gravity(15/4℃) | 1.08 |
| .....Viscosity, cSt, 40℃ | 350.0 |
| ...Flash Point(COC), ℃ | None |
| .Cloud Point ℃ | 74℃ |
| ...Pour Point ℃ | -12.5℃ |
| ...pH(20℃, 5%Sol'n) | 9.50 |
Features
- If adsorbed films are formed by temperature difference of aqueous solution, PAG films are formed on
- treated surfaces when red heat metal is soaked in GCOL-A solution and forming of vapor blanket is
- restrained. As a result, cracking does not occur and deformation is reduced because uniform heat is
- extracted and uniform hardening is performed even on complex structures.
- Low risk of fire because both diluted and undiluted chemicals are non-flammable so it is environmentally
- safe.
- It does not deteriorate because it is semi-permanent use possible by refilling.
- Enables the attainment of an ideal cooling curve, through the control of concentration, fluid temperature
- and flow speed.
- Concentration can be measured by saccharometer and is easily controlled.
- Prevents problems usually associated with uniform quenching because of its excellent antifoaming
- power.
- Enables tempering without prior degreasing.
Technology and Certification
Patent No. 0248825
Additional Information
▣ Application

- continuity furnace (belt, pusher, rotary type)
- A wide range of cooling effect used for mid carbon steel, low alloyed steel
- Flux process of light metals like alloyed aluminum and alloyed Ti


▣ Packing

- Drum--------------------------------200 L/T