[lleafill] Curing Hyaluronic Ultimate Mask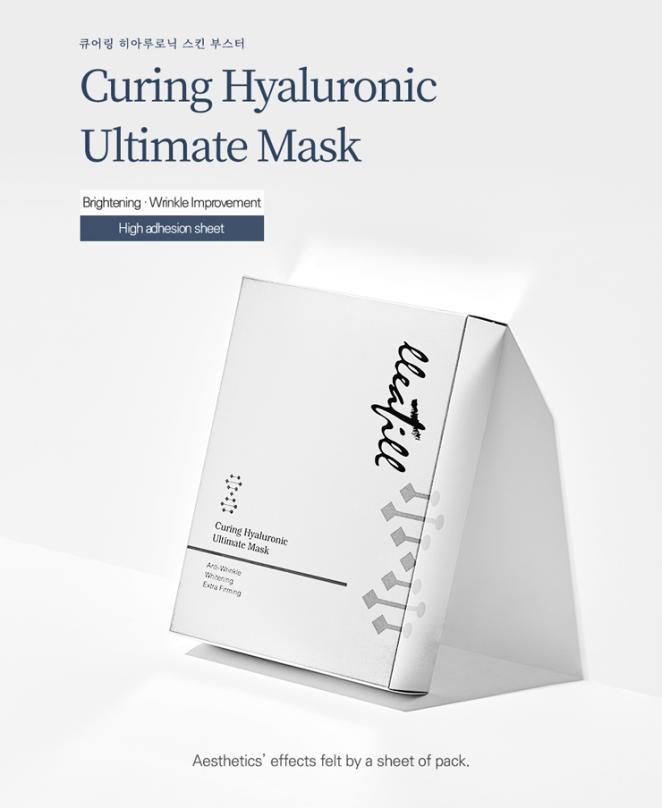 • It maximizes skin adhesion with sheet from bamboo yarn, thus helping to absorb of functional ingredients.
• Independent technique natural ingredients(Theramogen AT®) with excellent skin soothing and regenerative effects help improve skin texture.
• Ultra-low molecular oligo-hyaluronic acid of 1/259 millionth of the pore area is contained so that immediate moisturizing effects can be experienced.
• Apply dermal filler ingredient to cosmetics.(independent technique ingredient: Curing hyaluronic acid®)
• Curing hyaluronic acid®'s forms a moisturizing barrier which results in excellent skin regeneration, collagen generation and constant absorption of functional ingredients and protects the skin from external stimuli, ensuring moist skin throughout the day.
• Certification of MFDS, Whitening and Anti-Wrinkle Dual Functional Cosmetics.

• Key ingredients : Curing Hyalrunic acid® : Anti-wrinkle, hydration, skin regeneration
• Capacity : 28g/sheet, 10sheet/pk
1) Take out the sheet mask from the pouch and apply mask over cleansed face.
2) Unfold the mask and carefully place it on the face matching the cut-outs to your eyes, nose and mouth. Gently press it to keep it in place.
3) Remove the mask after about 10-20 minutes and lightly pat the skin upward with your both hands to help it absorb the remaining essence.