You can easily design your Company Website with EC21 website design took kit.
My EC21 > Premium Services >
Customize Site Style
(* Premium members only)

To edit the style of your Company Website, click 'edit' button which you can see above. and then the Site Style Advanced Editor will pop up as below. Here you can change the Template, Site Menu and Site Body Style anytime.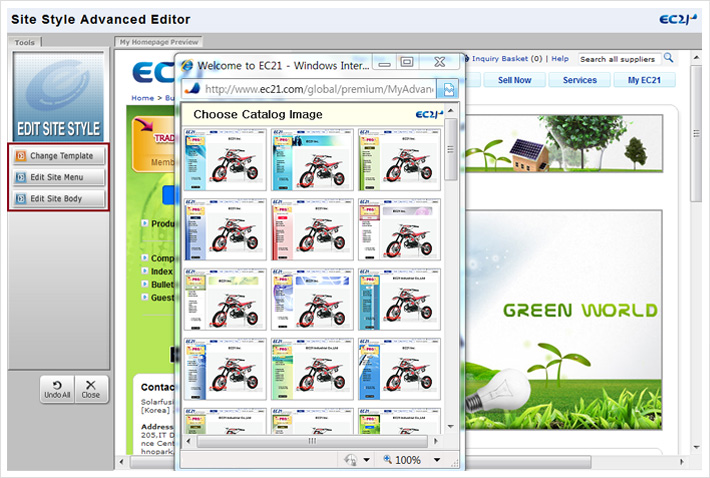 Here you can set optional menus which will show up on the left side of your company website.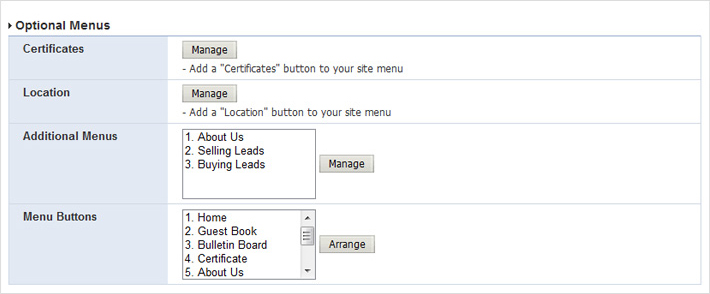 Optional Menus
You can manage optional menu in your homepage here. Click a corresponding button for each menu.
1

Certificates : Add your Business Certificates in order to give buyers confidence.

2

Location : If your company is located in more than 1 area, list them on your Company Profile.

3

Additional Menus : You can create additional menus of your own.

4

Additional Menus : You can arrange the orders of the menu in your Company Website. To manage, enter the number for their order and click 'submit'button.

File Upload
Here you can upload product image files, HTML files, and downloadable files. Depending on a type of files you wish to show, click a corresponding button.
1

Image files : Use this option when you add an additional image on the bottom of your main image. This menu is different from multiple product images. First, you can use HTML and you can also save your images on your web-storage.

2

HTML files : This is storage where you can keep your HTML files. Use this option when you want to insert a function of link to saved HTML page.

3

Downloadable files : This is a storage where visitors are allowed to download your files. Use this option to let visitors download your files.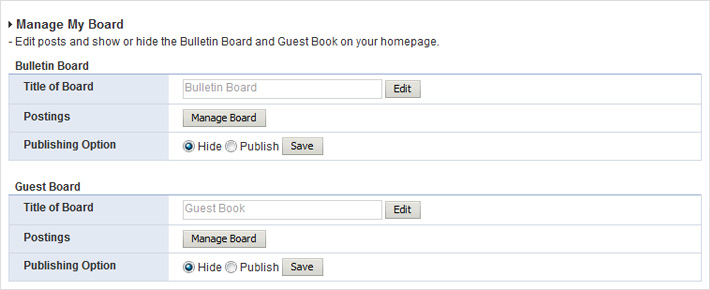 Manage My Board
This menu enables you to create boards on your Company Website.
1

Bulletin Board:To change the name of Bulletin Board, enter a new name and click 'Edit'. To manage the board, click 'Manage Board'. To change the publishing option, select Hide or Publish and click 'Save'

2

Managing Guest Board is the same as managing Bulletin Board.